Paper Online Tutoring Resource
Raise your hand if your child could use help after-hours. The District is pleased to share information about our tutoring services, provided by Paper. Paper is a secure, online tutoring service that provides students with unlimited, 24/7 academic support. Whether they're stuck on homework, studying for a test, or need someone to read and make suggestions to their essays, there will always be experts available online to assist students in over 200 subjects and more than 4 languages.
Paper tutors have been specially trained to conduct expert, academic support in a secure, chat-based platform. With a commitment to helping students learn, they'll never give students answers, but rather interact with them in an encouraging tone to lead them forward. This service is provided by the District. Students in grades 4-12 are encouraged to use it as much as they need, whenever they need.
Paper offers two main features:
Chat—If you have a question that needs to be answered

within a specific subject, you can select a specialized tutor

for that subject. If you have a question about math, for

example, you can open up a direct conversation with a math

tutor and quickly get one-on-one help. The live chat allows

for instantaneous communication with a Paper tutor.

Essay Review—You can use the essay review feature to

receive comprehensive feedback within 24 hours on any piece

of writing. Paper asks you to submit your essay, essay prompt,

and rubric along with an explanation of what type of feedback

you want on your essay. Once you upload your essay, a tutor

will look over it and provide personalized comments based on

the type of feedback that you requested from them.
If you'd like to learn more about Paper, you can sign up for a Paper-hosted Parent Info Session (https://pages.paper.co/webinarsfor- parents-and-guardians), available in both English and Spanish. Or if you'd like to speak to a member of the Paper team directly, you can reach them by email at parents@paper.co.
To see Paper and the help it offers firsthand, we encourage you to log-in with your child. To get started, simply visit Paper's student login page at https://app.paper.co/login/student, type your school's name, and log in via Google using your school email address and password. If you have any additional questions please contact your school building's main office.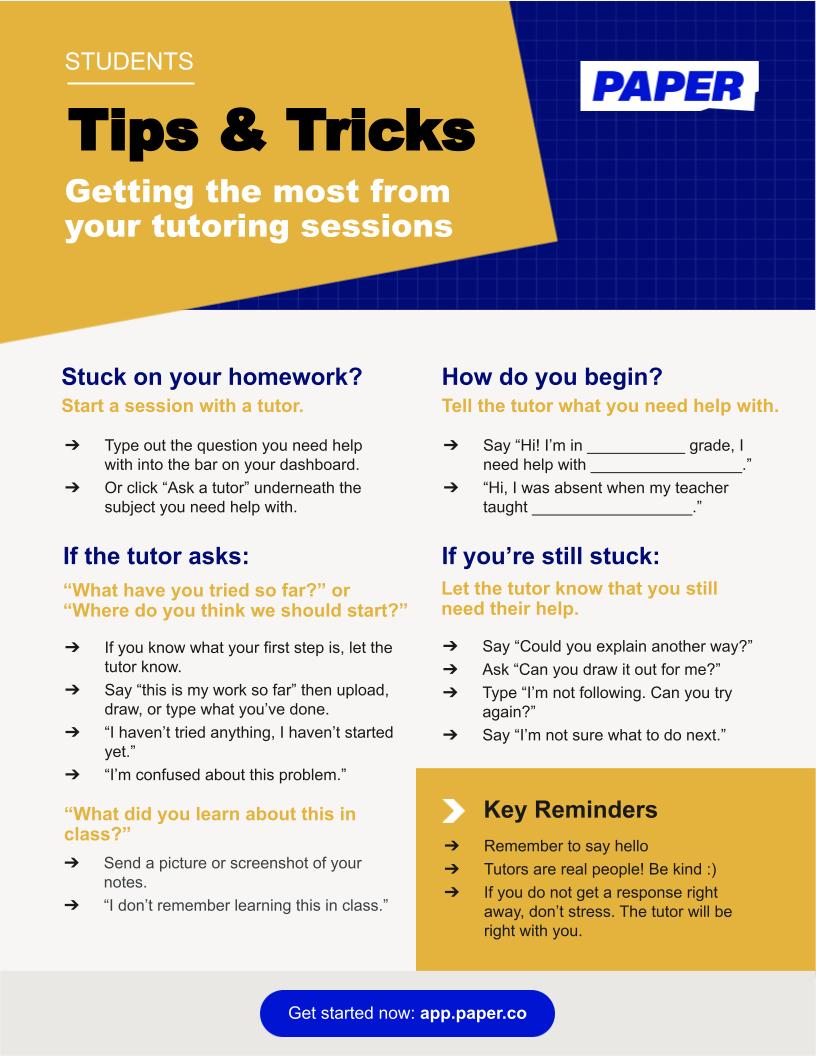 tips and tricks