Livonia, New York, May 12, 2023 - The Livonia Central School District's Board of Education has named Jeremy Lonneville, Ph.D. as the district's next Superintendent of Schools.
Dr. J. David Woodruff, President of the Livonia Central School District's Board of Education, expressed that the search process was thorough and comprehensive. He also emphasized the value of the feedback provided by the staff and community members who participated on the interview committees. Dr. Woodruff stated that "throughout the search process, it was clear that Dr. Lonneville's breadth of experience, knowledge of the Livonia Central School District and his dedication to our students made him the right choice." Furthermore, Woodruff expressed confidence in Lonneville's ability to work collaboratively with district stakeholders in delivering high-quality educational opportunities for the students in the Livonia community.
"I am excited and honored to have the opportunity to serve as the Superintendent of Livonia Central School District. I look forward to serving our community to the best of my ability in order to fulfill our mission of creating educational experiences in a safe, supportive and respectful environment where ALL students achieve and thrive," said Lonneville.
Dr. Lonneville has served as the Interim Superintendent of Livonia Central Schools since July 2022; as well as the Assistant Superintendent of Finance and Human Resources at Livonia Central Schools since 2018. Prior to his current position, he served as the Principal of Wayland-Cohocton Middle School, Coordinator of Instruction at Genesee Valley BOCES, Dean of Students at Rochester Prep and was a Social Studies Teacher in the Oakfield-Alabama Central School District. As the Assistant Superintendent of Finance and Human Resources at Livonia Central Schools, he was responsible for developing and overseeing the annual budgets, serving as the lead negotiator for all district collective negotiations, and leading the current capital project.
Having obtained a Bachelor of Arts degree from Roberts Wesleyan University, as well as two Master of Science degrees from Le Moyne College and Niagara University, Lonneville is also a holder of a doctorate in Leadership and Policy from Niagara University. In addition, Dr. Lonneville currently serves on the Board of Directors for the New York Association of School Business Officials and the Genesee Valley Association of School Business Officials.
The anticipated start date for the new Superintendent is July 2023.
Kevin MacDonald, Genesee Valley BOCES District Superintendent, who acted as the search consultant, said the Board developed and implemented a rigorous and transparent process that was a true collaboration between the Board of Education, district staff and the community.
###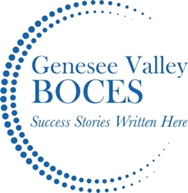 Genesee Valley BOCES operates as a Board of Cooperative Educational Services offering shared programs and services to 22 component school districts located in Genesee, Wyoming, Livingston, and Steuben counties in New York state.