REMINDER - Capital Project Vote TODAY, TUESDAY, FEB 15, 2022 from 8AM-9PM in Connell Building Please stop into the Connell Building (40 Spring Street) to vote on the proposed Saunders Sports Complex. We are very fortunate to have Mr. Saunders's commitment of $1 million to support this project and reduce the potential tax impact. Remember the last vote in December ended in a tie (218 yes - 218 no) - a reminder that every vote matters!!! Here's a Q/A from conversations & social media posts to provide more information heading into today's vote:
https://drive.google.com/file/d/12HLuebgFYL8FXXid1M06v_IkmzAvs5l9/view?usp=sharing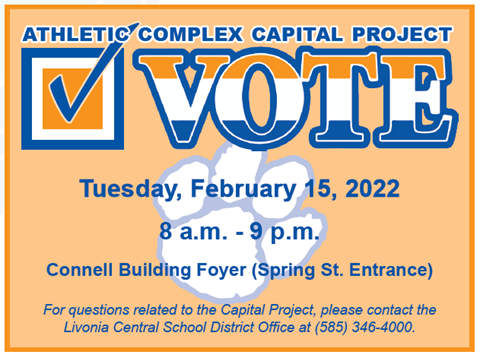 Mark your calendars!! The Penny Carnival returns on Friday, March 25th. This is a long standing tradition at Livonia.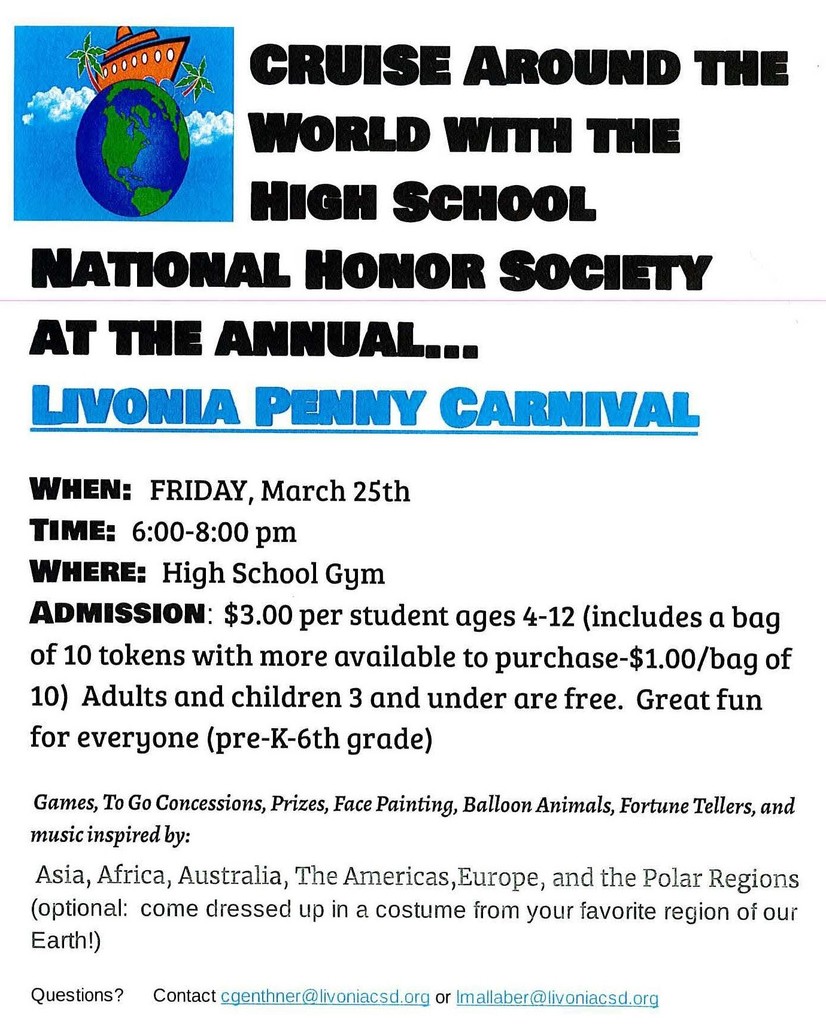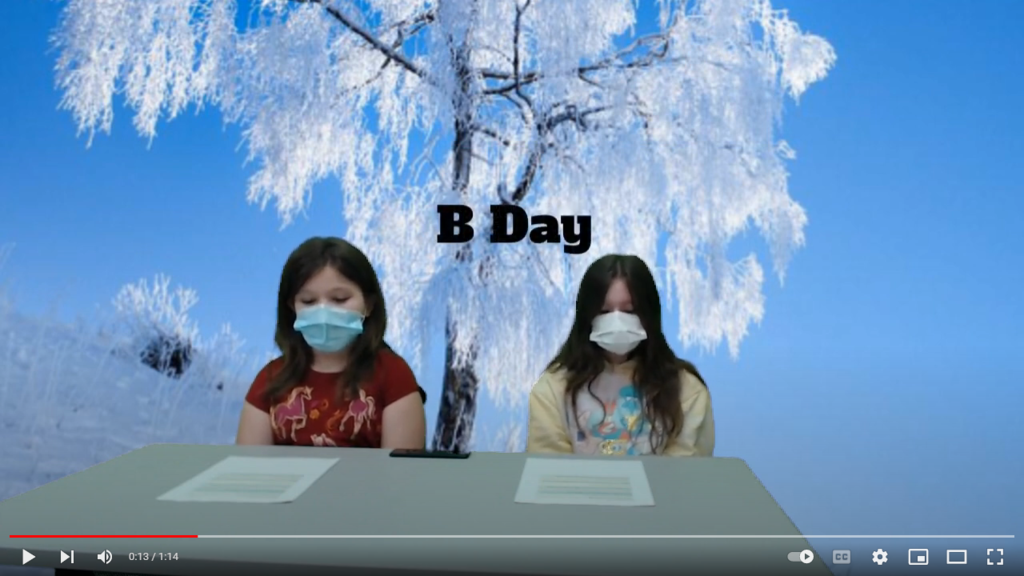 Sharing as a community partner. If you want to learn more about Friends of Livonia you can check out their facebook page @FriendsOfLivonia or email
livoniafriends@gmail.com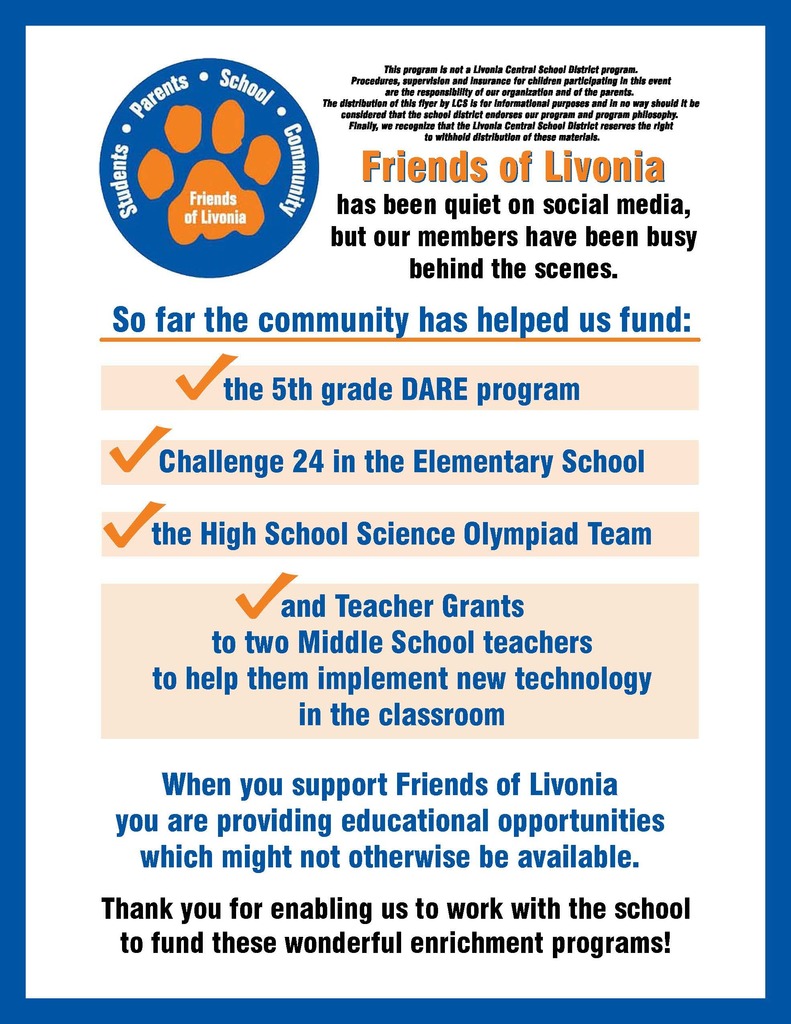 Reminder as deadlines approach: Kindergarten and PreK registration packets are on our website or call 346-4000 x5000. K registration due Feb 18th -
https://5il.co/vici
PreK registration due March 1st -
https://5il.co/vhyx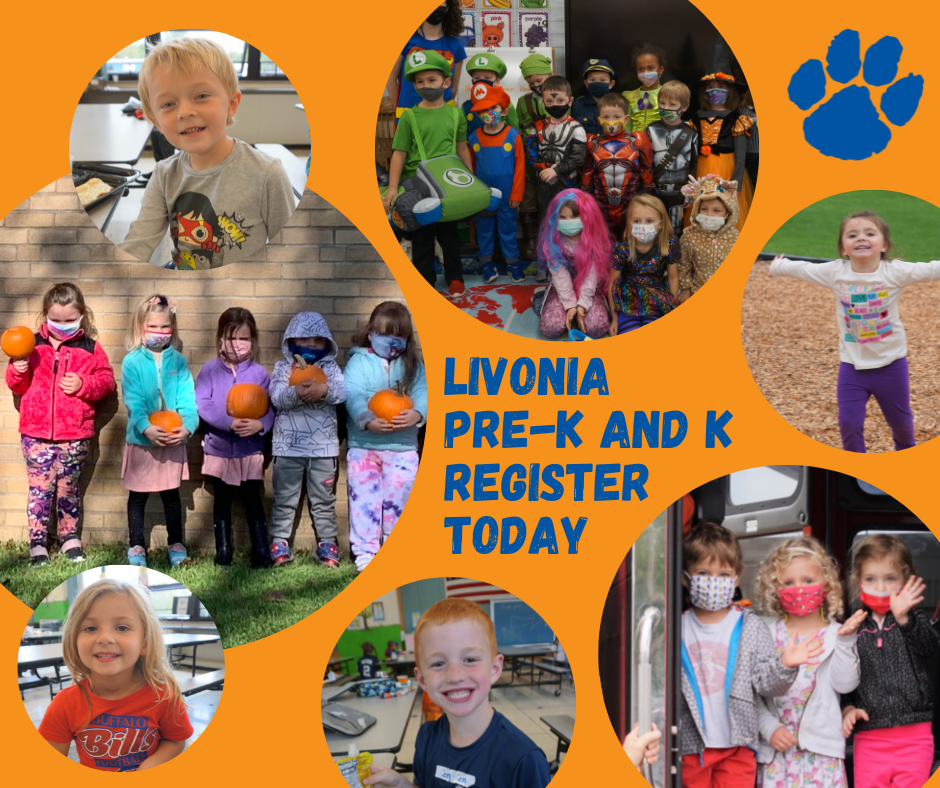 It's National School Counselor Week, so we wanted to say THANK YOU to our counselors. Your dedication to the emotional & academic success of our students is so very appreciated! 🧡💙 Thank you Ms. Braun, Ms. Lynch, Mr. Carter, Mrs. DeLano, and Mrs. Fitzsimmons.
💗 On Wednesday, February 9th, we invite you to join us, wear pink, and Take A Stand to embrace diversity. Together, let's strive to create an environment of openness and inclusion; thank you for wearing PINK! #TakeAStand #WearPink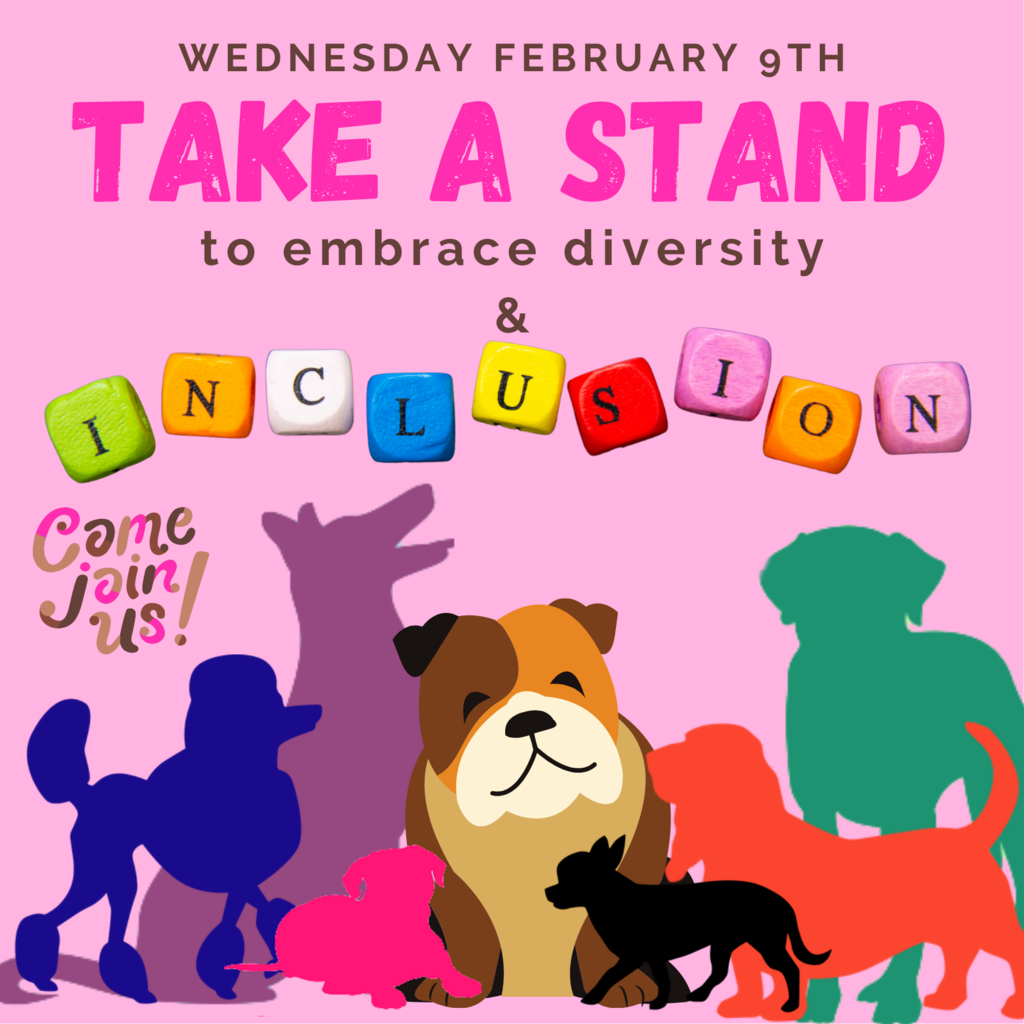 School CLOSED tomorrow, Friday, February 4, 2022. The National Weather Service winter storm warning continues through tomorrow at 1 PM. This evening's forecasts indicate that the heaviest snow will continue into the overnight with persisting snowfall throughout the morning. This will cause adverse weather conditions tomorrow morning and require significant snow removal throughout the school day. In order to give families time to prepare, we are making the call tonight as it seems clear based on current conditions and forecasts that tomorrow morning will continue to be a concern and clean up efforts will likely continue throughout the day. Again, School is CLOSED tomorrow, Friday, February 4, 2022.
Livonia CSD: ALL Afterschool & Evening Activities are CANCELLED today, Thursday, February 3, 2022 As the winter weather event is forecasted to intensify late this afternoon and this evening, all afterschool and evening activities are cancelled today. Will continue to monitor conditions and forecasts throughout this weather event. We will provide another update later this evening to make a determination regarding school status for tomorrow. Again, ALL Afterschool & Evening Activities are CANCELLED today, Thursday, February 3, 2022.
A big thank you to our Buildings and Grounds crew for keeping our campus roads and parking lots safe for our cars and buses! #BulldogPride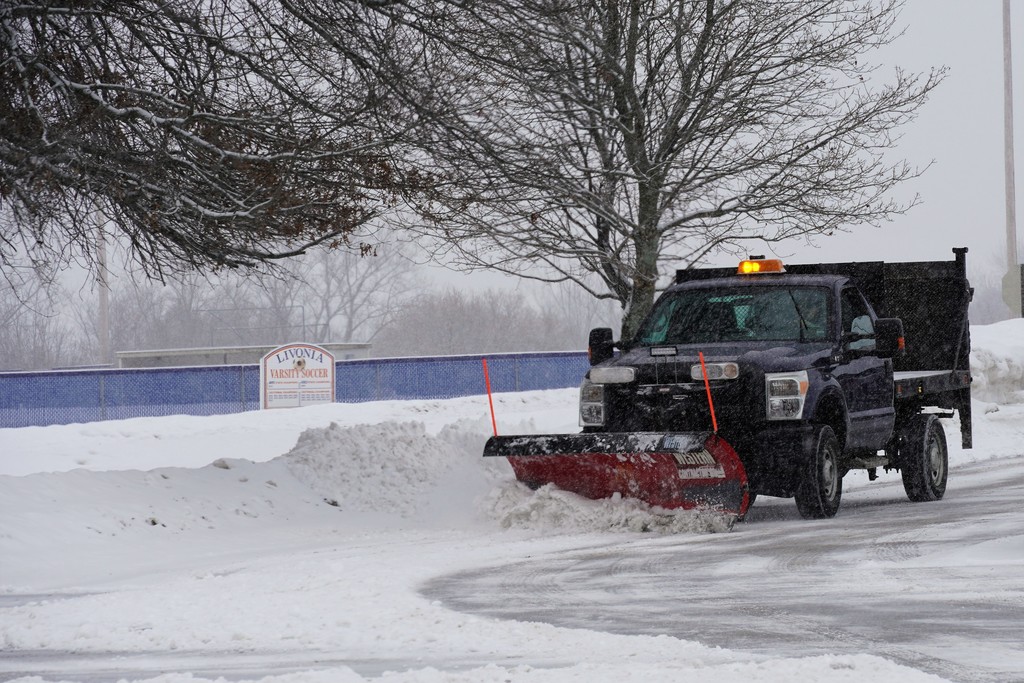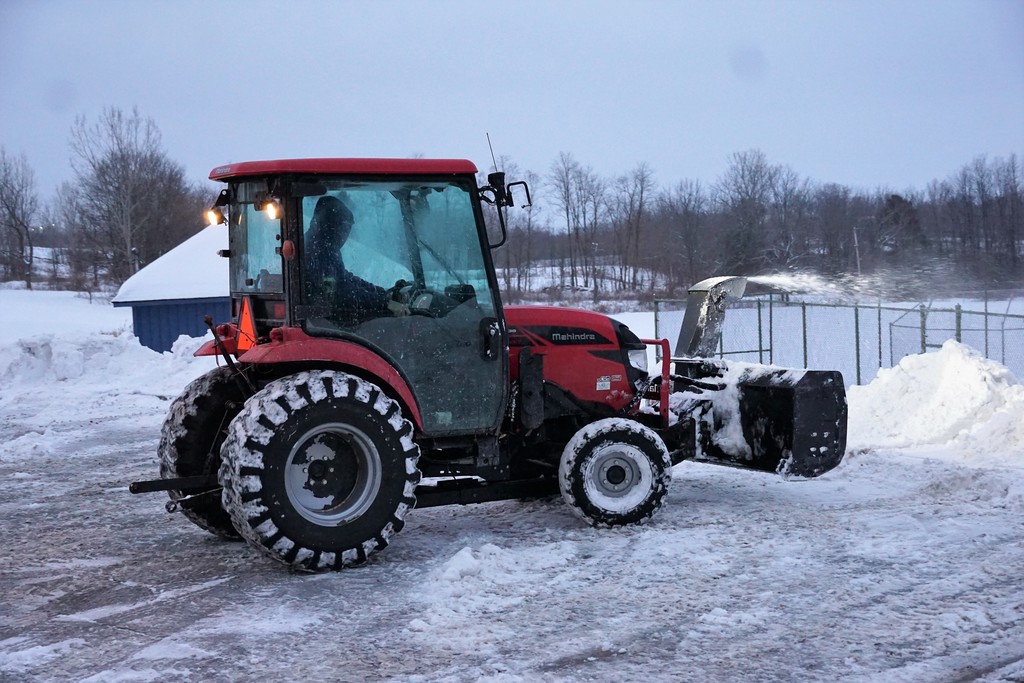 The Chip Holt Nature Center at Vitale Park is offering a free family friendly birdwatching program on February 8th at 6:30. Sharing as a community partner.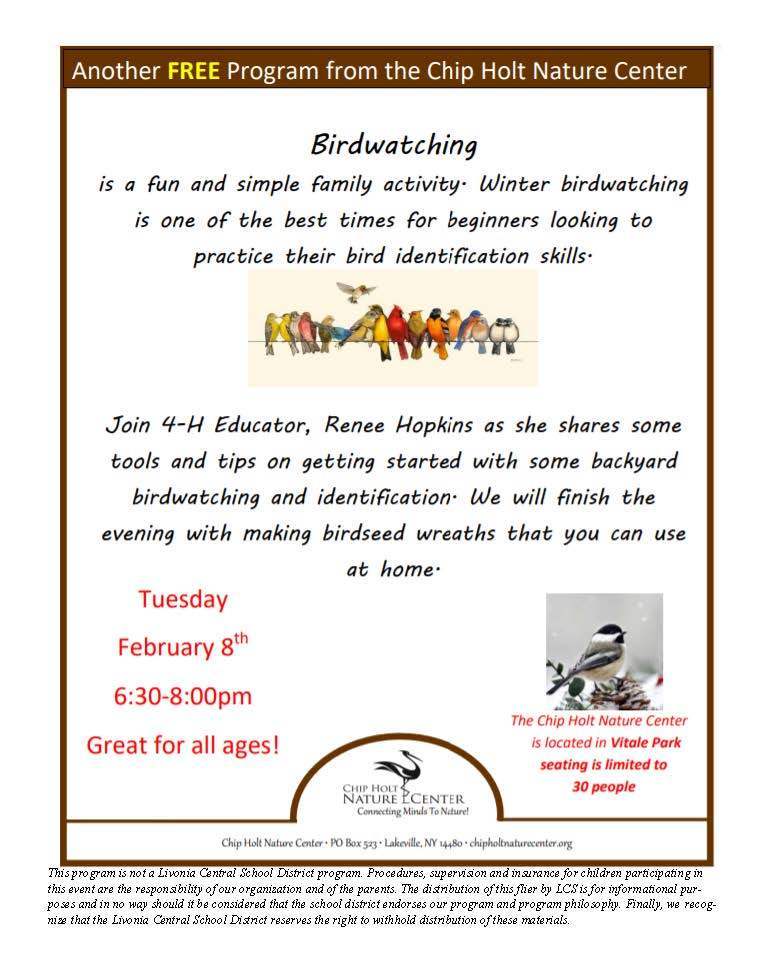 It was a cold but beautiful start to the morning in Bulldog Country! Photo courtesy Faith Gates.
Reminder - Cornell Cooperative Ext. and the Sheriff's Office is hosting a free Car Seat Check event at the Livonia Fire Department on January 29th from 10am - 1pm. Appointments are not required but they are encouraged you can call or email 585-991-5432, 585-335-1752, or
trafficsafetycce@cornell.edu
. Children must be present for seat inspection. Sharing as a community partner,
There will be a Capital Project vote for the proposed Athletic Complex on Tuesday, February 15th, 2022 at the Connell Building from 8 AM - 9 PM. For more information visit our: website -
https://www.livoniacsd.org/page/capitalproject2024
YouTube channel -
https://youtu.be/ZpdVVz87Dmk
Winter Focus which includes a FAQ page -
https://5il.co/14rtg
Anyone over the age of 18 who lives in the district is eligible to vote. If you are interested in obtaining an absentee ballot please call the District Clerk at 346-4000 x4100.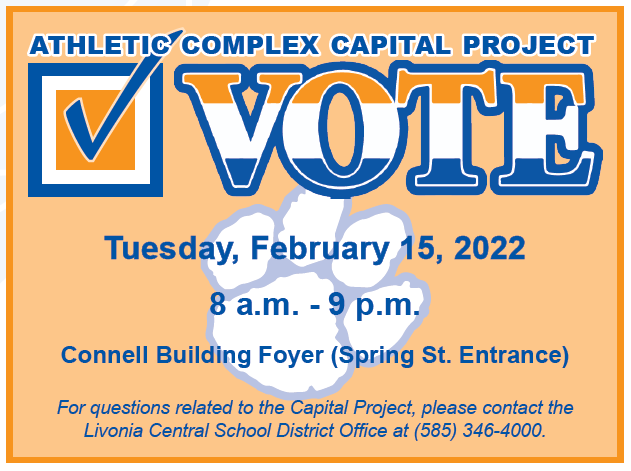 Custodial and Cleaner position available! These positions are full-time with benefits! Cleaner starts at $13.20/hour, Custodian starts at $18/hour. Find out more and apply online at
https://livonia.recruitfront.com/
. Custodian must be reachable on Livingston County Civil Service List - Next Exam is February 16, 2022. Deadline to register is February 2, 2022. Apply today and join the LCSD Family!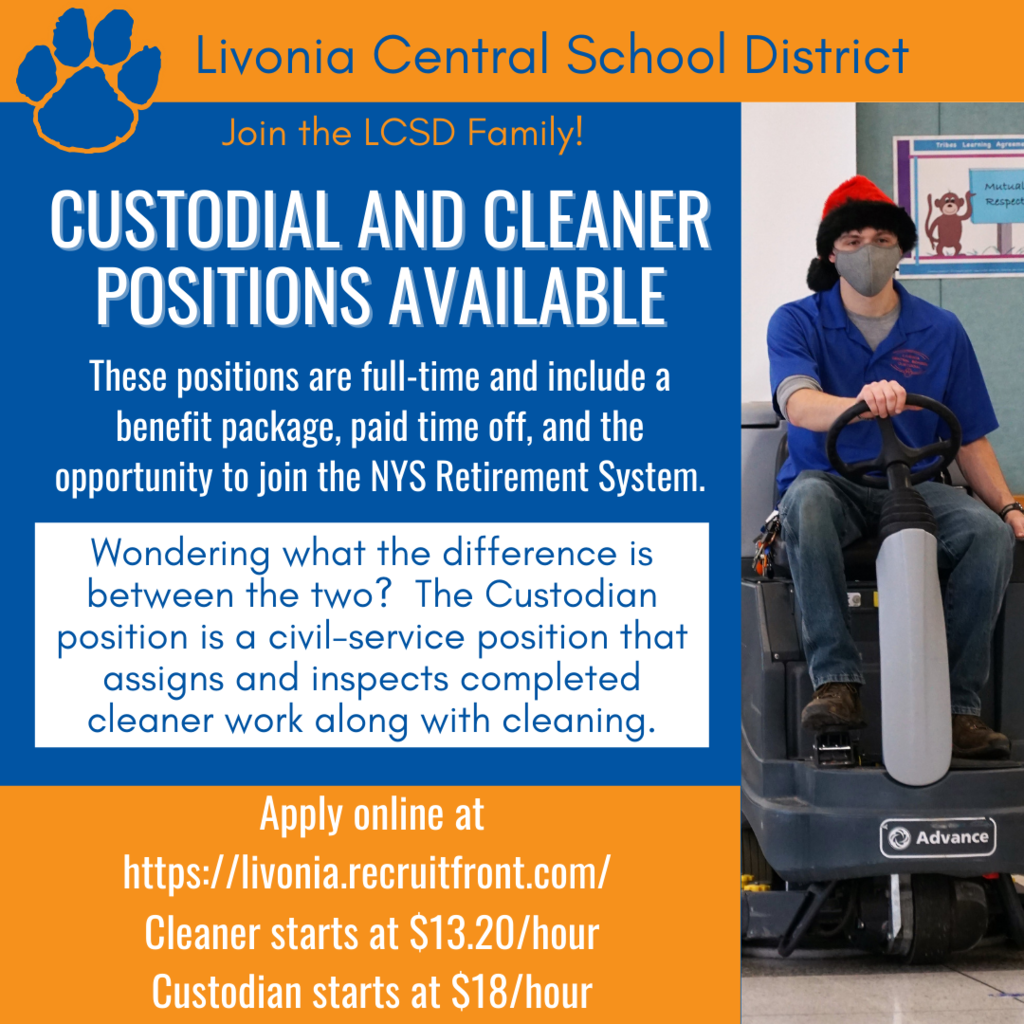 The Livingston County Sheriff's Department will be conducting active shooter training this Monday through Wednesday, Jan. 24-26, 2022 in the Connell Building from approximately 8 am until 4 pm. You may see armed deputies in tactical gear, but there is no cause for alarm.
Substitutes needed! Flexible schedule! Did you know that you don't need an education degree to be a substitute? If you have a 2- or 4-year degree or higher in any discipline, you can be a teacher substitute. We so appreciate the work our college-age substitutes do, but many are returning to school for their spring semester. Can you fill in? People are what make any organization great! Join our Livonia team and make a difference in our schools! Teacher Substitute - Submit Substitute Application
https://5il.co/ubt0
. If also interested in Teaching Assistant and Teacher Aide positions, please note this on the application. Teaching Assistant and Teacher Aide - Submit Non-Instructional/Support Staff application
https://5il.co/ubt1
. Mail applications to Human Resources- Substitute Application PO Box E, Livonia NY 14487 or drop off at the Connell Bldg, 40 Spring Street, M-F, 7:30-3:30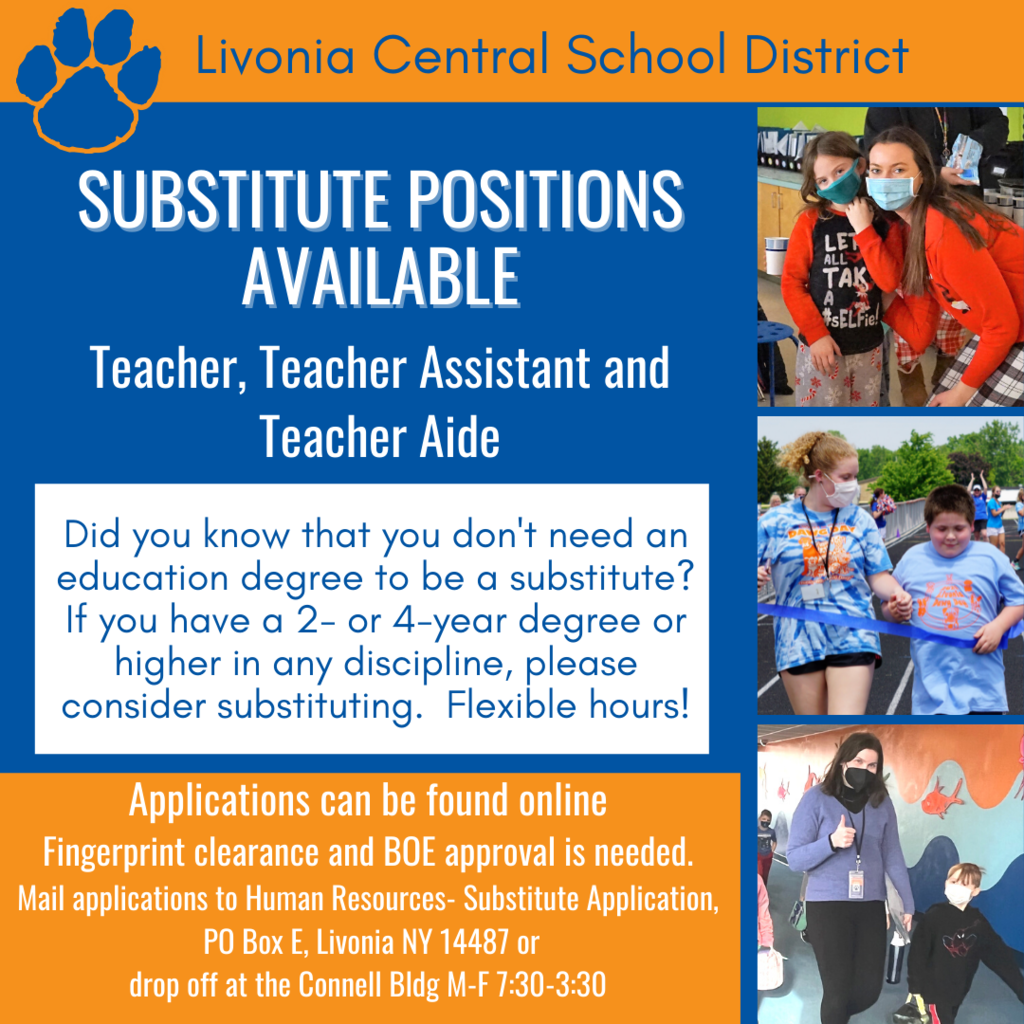 Reminder: Looking for Kindergarten or PreK registration for next year? You can find the registration packets on our website or call 346-4000 x5000. K registration due Feb 18th -
https://5il.co/vici
PreK registration due March 1st -
https://5il.co/vhyx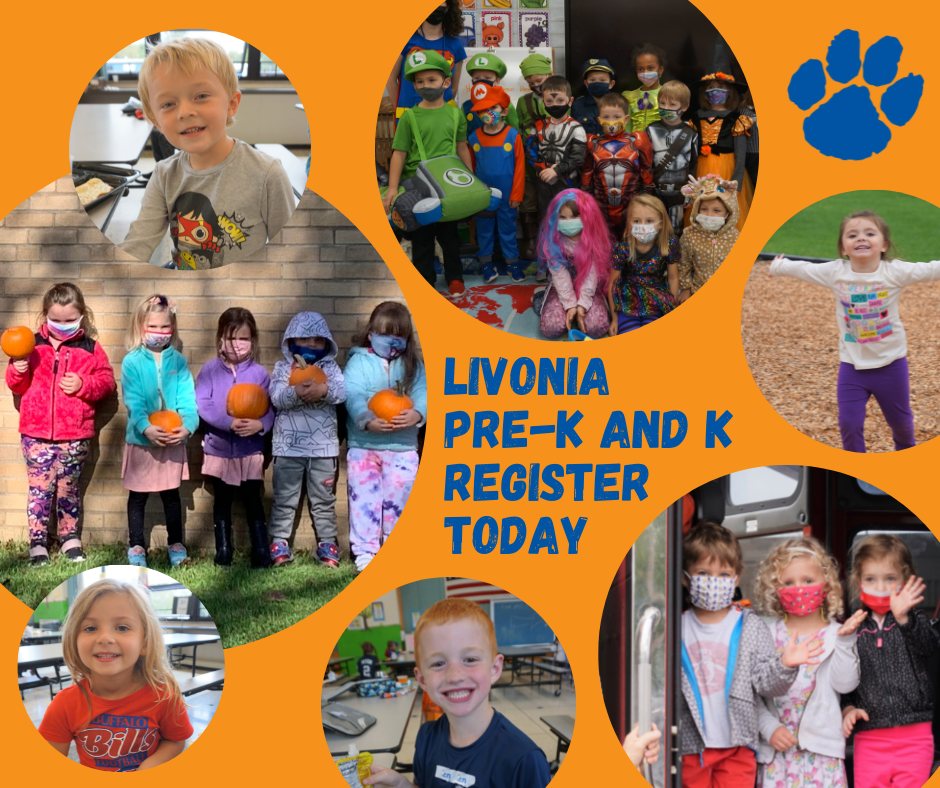 Has your family filled out the Digital Equity Survey? This will be yearly NYSED requirement for each student and due again next fall. Access the survey through Schooltool
https://st.edutech.org/livonia/
Instructional video:
https://5il.co/11e6t\
If you need assistance, contact LCS Help Desk at 585-346-4000 X1233.