🤼‍♂️ Modified wrestling match results against Letchworth & Pavilion-York at home on November 22 Livonia wrestlers went 12 wins – 2 losses with 3 first period pins, with 5 pins overall and 1 technical fall Landon Feil: 2-0 – 1st period pin Aaron Lubberts: 2-0 Chase Barrett: 1-1 – with a pin Mason Gibson: 1-1 Jordan Ramirez: 2-0 – 1st period pin Zach Yamin: 2-0 – with a technical fall Carter Breu: 2-0 – 1st period pin, and a pin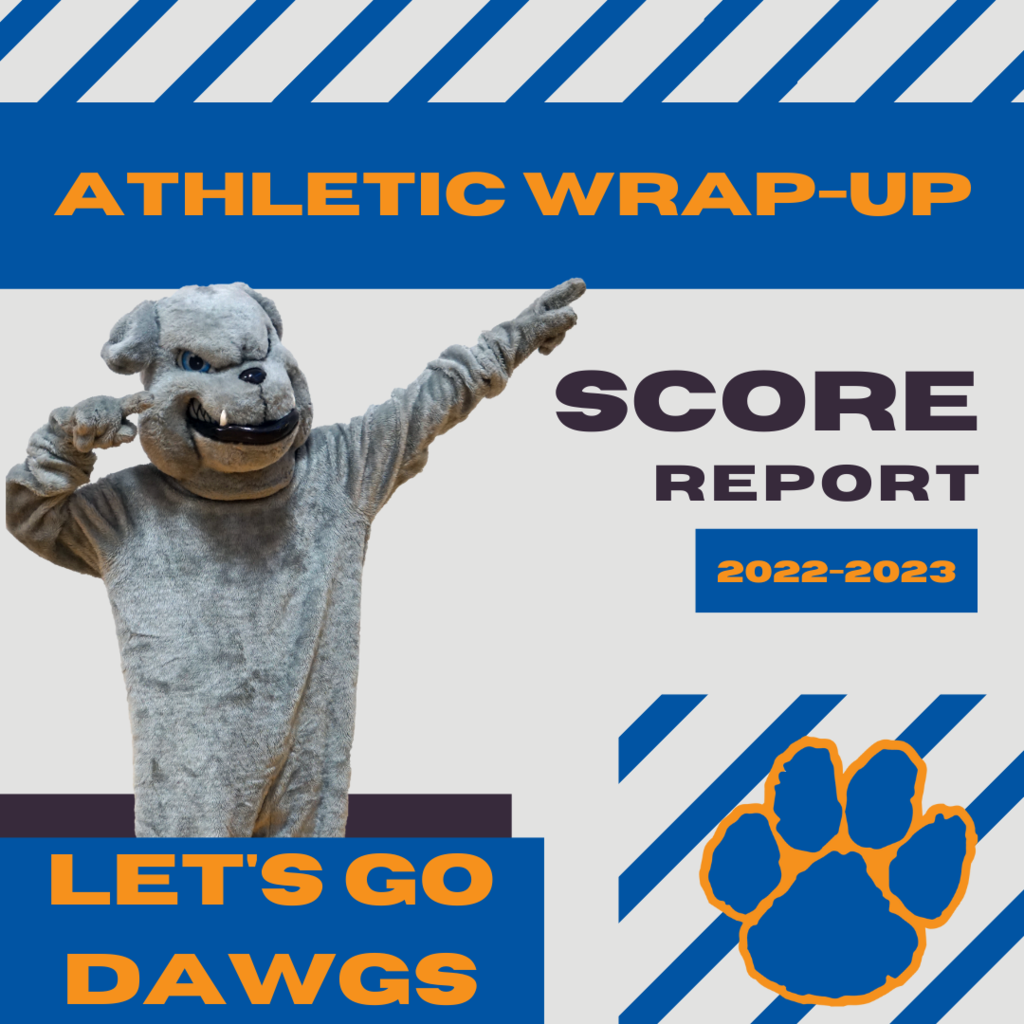 🏀 The Livonia Modified Girls basketball team faced off against Geneseo last night. Geneseo got off to a fast start in game one, but the Bulldogs fought back and played a great defensive second half. Geneseo won game one 24-12. Scoring for the Bulldogs was Eleanor Walters with 4 points, Emily Whittel, Erin Kolodziej, Peyton Johnson, and Natalie Genthner In game two the Bulldogs gave a great effort against a very good Geneseo team. Geneseo won 46-5. Scoring for Livonia was Audrey DeBolt with 3 points, and Chloe Richardson with 2 points.

Varsity Club will be hosting an open gym for Grades k-5 on Wednesday, November 23 from 10am-noon.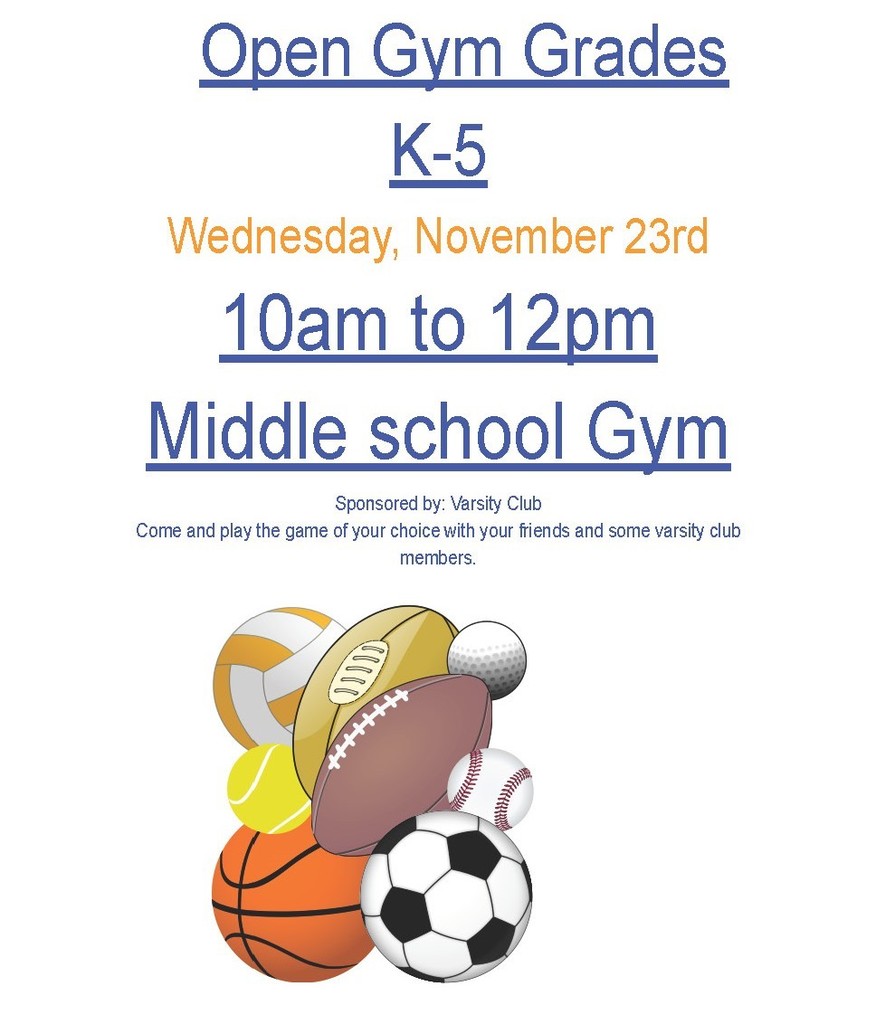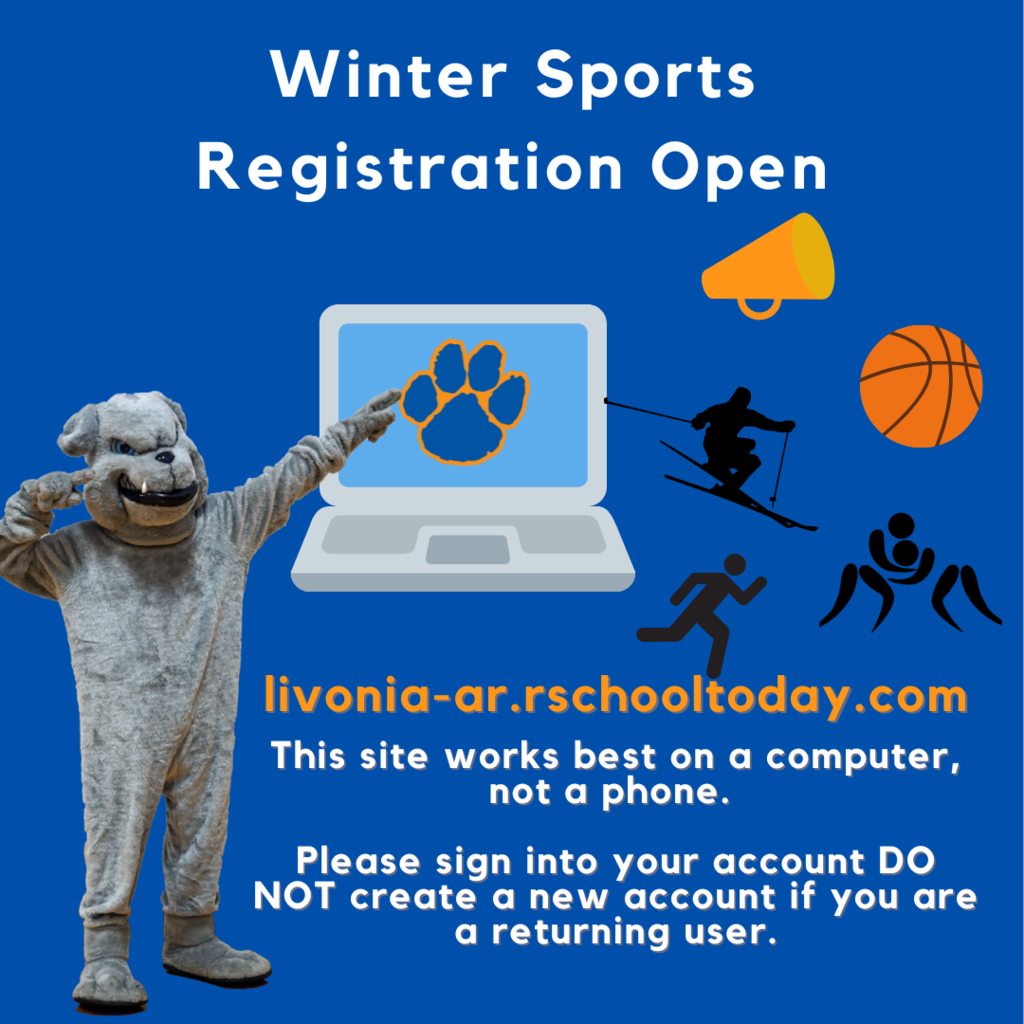 🏀Last night the modified girls basketball teams took on Warsaw. The 7th grade grade game was back and forth in the first half, but Warsaw finished on top 28 - 18. Leading scorer for Livonia was Erin Kolodziej with 6 points. The 8th grade team played a fast paced game winning 43 - 18. Gwen Strom, Molly Hitchcock, and Alexa Olsen all finished as the leading scorers of the night.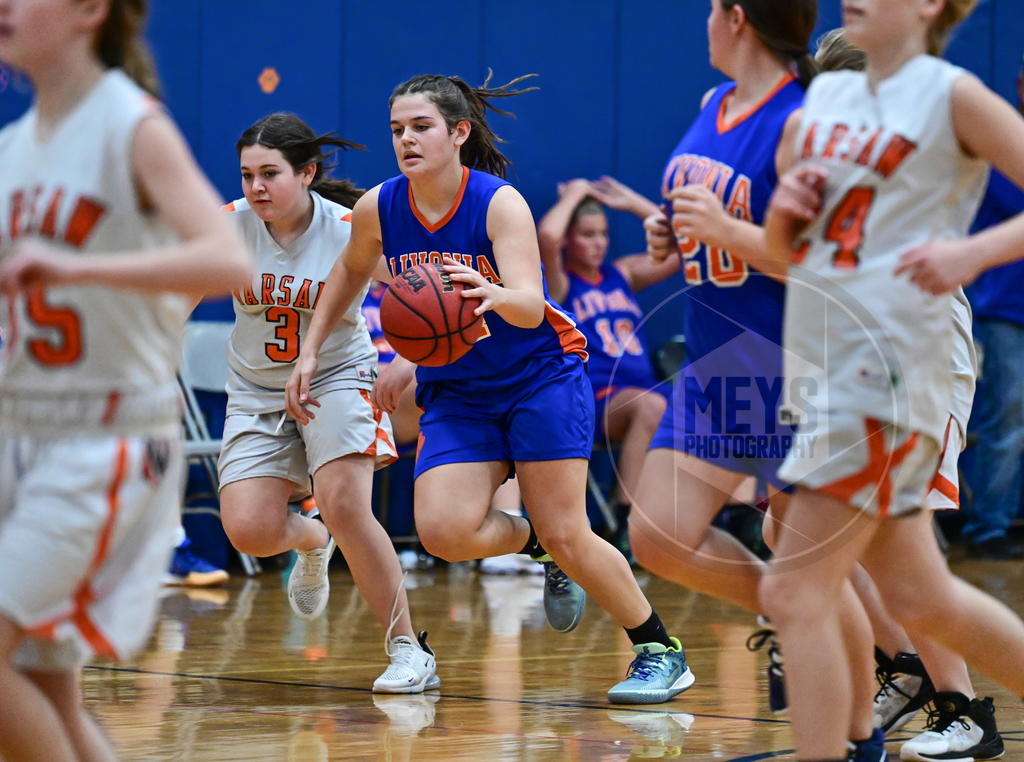 Reminder: 🏀 Girls Bouncin' Bullpups starts this Saturday! No pre-registration is required just bring the form and money to practice. If you have questions please email Coach Schuster at
kschuster@livoniacsd.org
.

Tuesday Night Wrap-up ❄️ Winter sport season has started! 🏀Girls Modified Basketball had their first games of the season against Haverling last night. The 7th grade girls played a great defensive game, however fell short to Haverling 20-16. The 8th grade team got off to a fast start in the 1st quarter and didn't look back. Livonia had an outstanding defensive effort by all players and finished with a final score of 54-5. Leading scorers ⛹️‍♀️ Molly Hitchcock- 22 points ⛹️‍♀️ Gwen Strom- 12 points,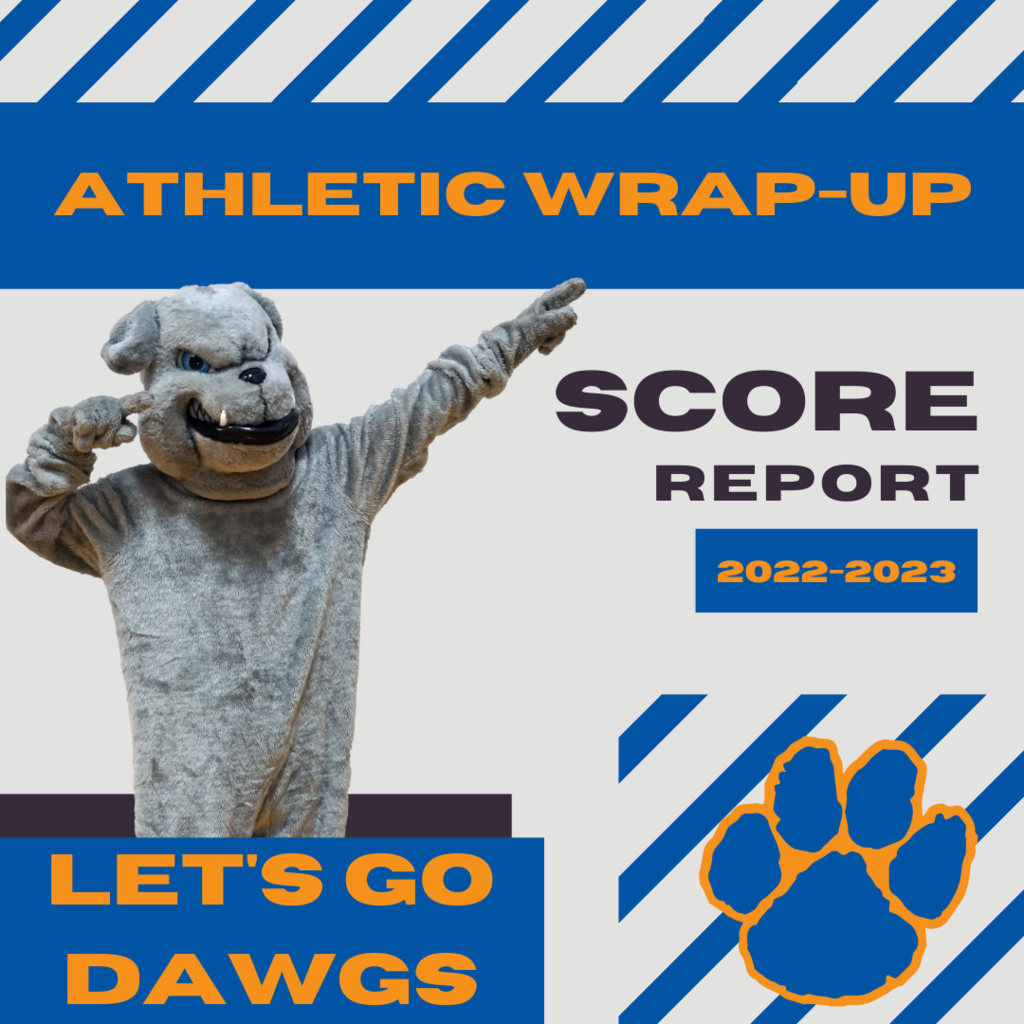 Reminder: JV and Varsity winter sports start November 14th - basketball, hockey, indoor track, boys swimming and diving, wrestling, ski, and cheer. Your student-athlete needs a current physical and to be registered to participate. Register -
https://livonia-ar.rschooltoday.com/
Contact Mark Kress at
mkress@livoniacsd.org
with questions.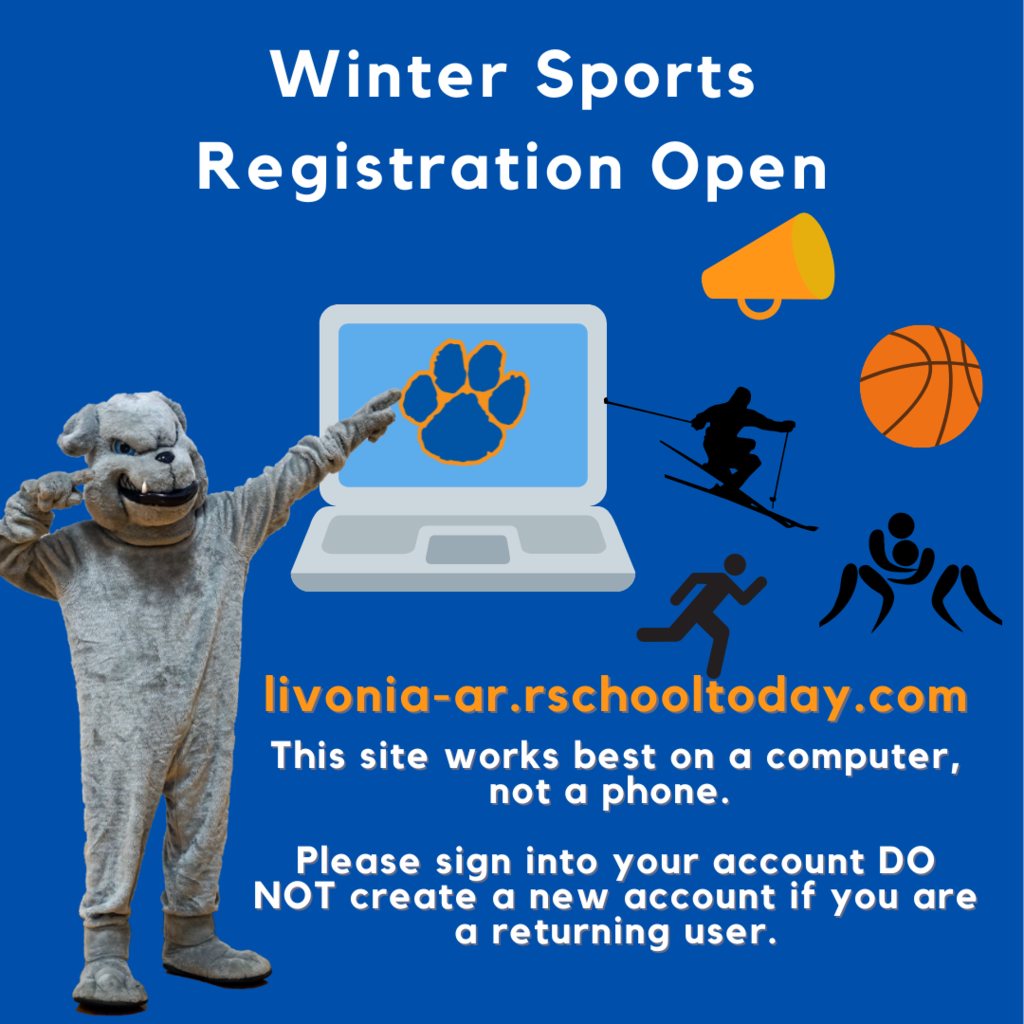 Weekend Wrap-up ⚽ The Livonia Boys Soccer team, despite a valiant effort, fell 2-0 on Saturday to Lewiston-Porter of Section VI in the NYS Class B quarterfinal round. Sophomore Brady O'Keefe was "Man of the Match", helping to limit an explosive Lancers offense to very few opportunities. The boys end the season as Section V Class B1 champs, Section V Class B champs, NYS Western Region Finalists, and an overall win-loss record of 18-2-1. 🏊‍♀️ Girls Swimming and Diving took second Friday night at Sectionals to Wellsville by 17 points, 391-374. Such an unbelievable performance by all the athletes, while even taking the lead late into the meet. First place finishes were: Lila M. in the 50 Free and the 100 Free, and the 200 Free Relay of Lila M, Anna N, Caris S, and Kiera M. Breaking the school record with her lead off in the 200 Free Relay, was Lila M. The new 50 Free record is 24.88!!! 🏃‍♀️ The Livonia Cross Country team ended their season at the Sectional Championship on Saturday morning. Top runners for the girls were Cami Rode, Ollie Turek, Carly Lang, Alyssa Healy, and Reagan Sykes. The boys team took 4th place overall and was led by Chris Coyle and Matt Mulvaney. They were followed by Ryan Bosch, Silas Meadows, Luke Lawton, Hunter Otis, and Myles Jarzyna. Great season Cross Country! 🏈 Football ended their season Friday vs Batavia 56-14 Owen Weterrings 7 carries for 101 yds and 1 td Maddox Olsen 1 td Kris Amadeo 5 carries for 47yds Alex Benitez 8 tackles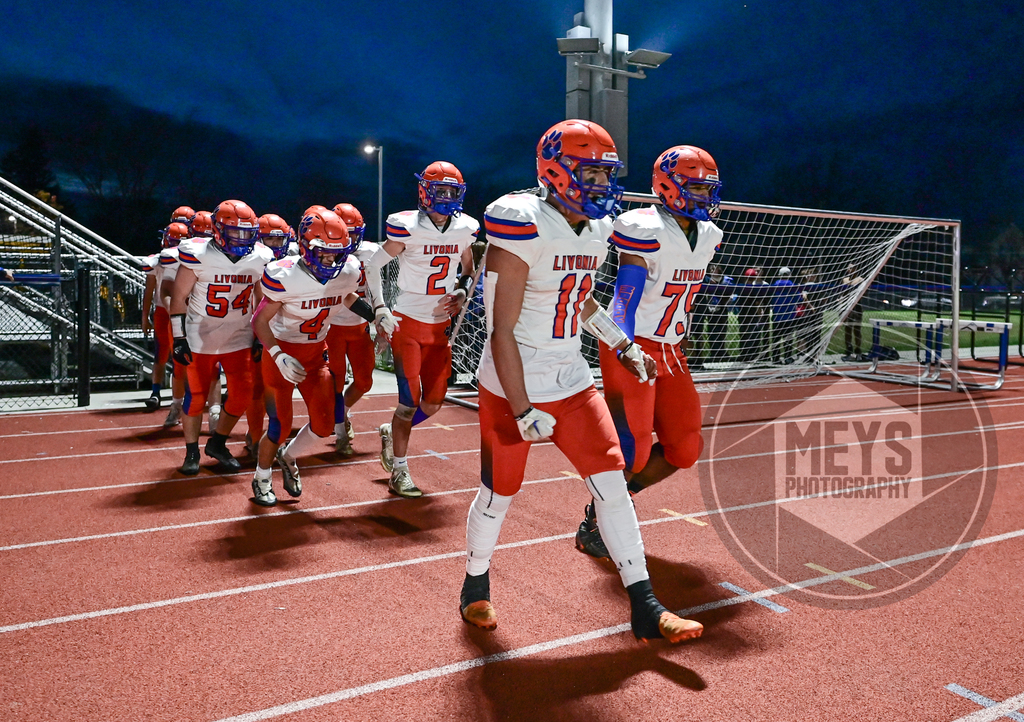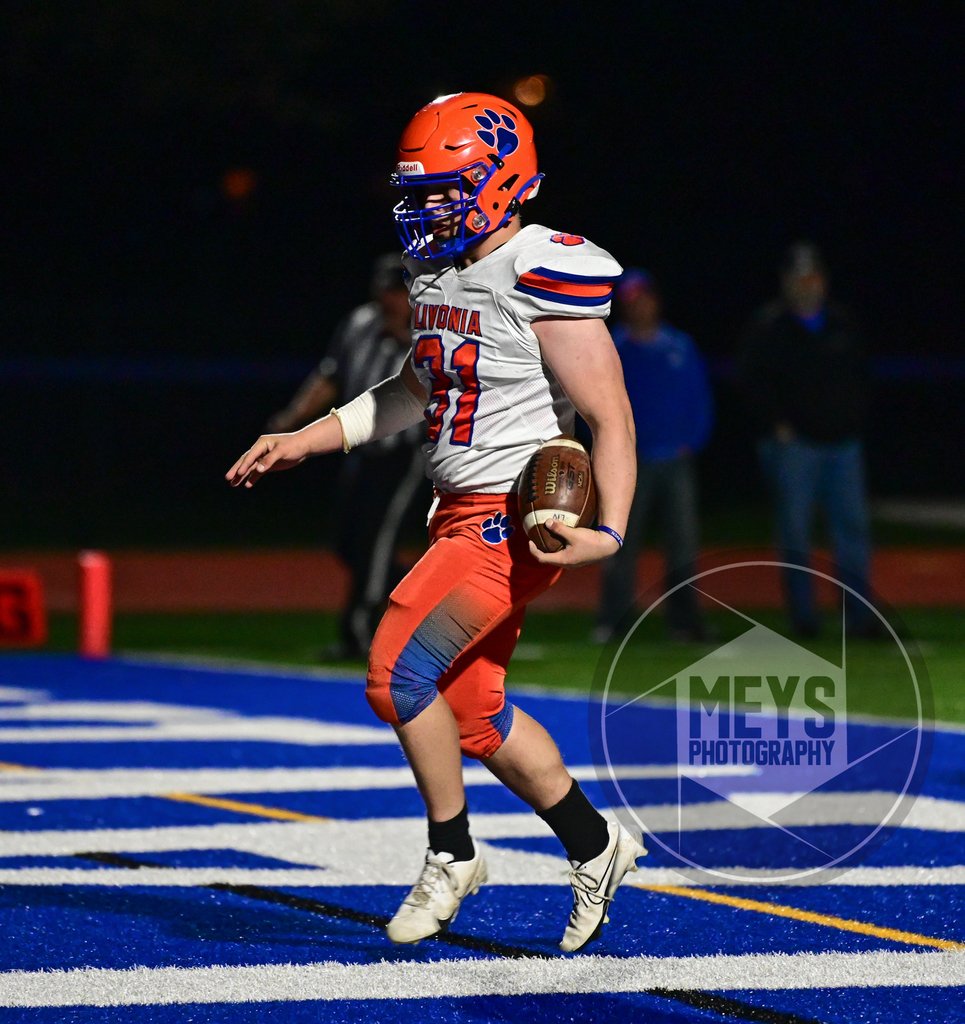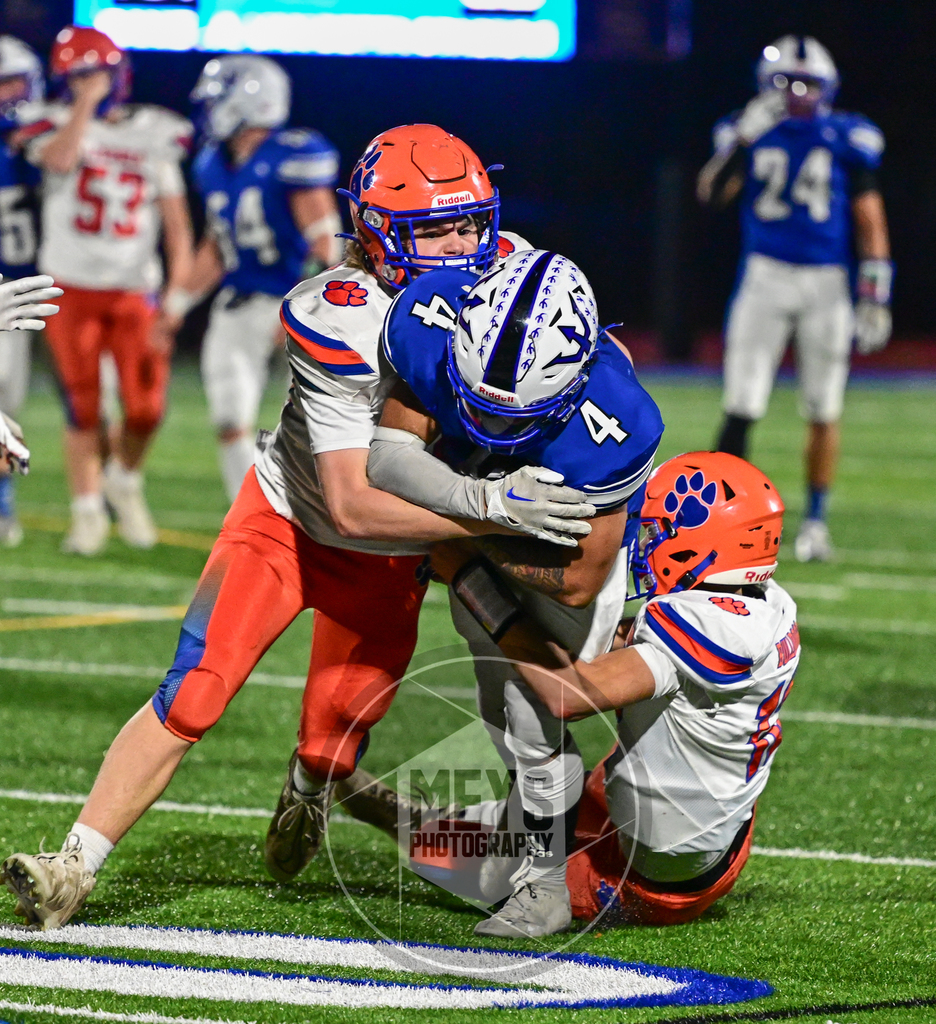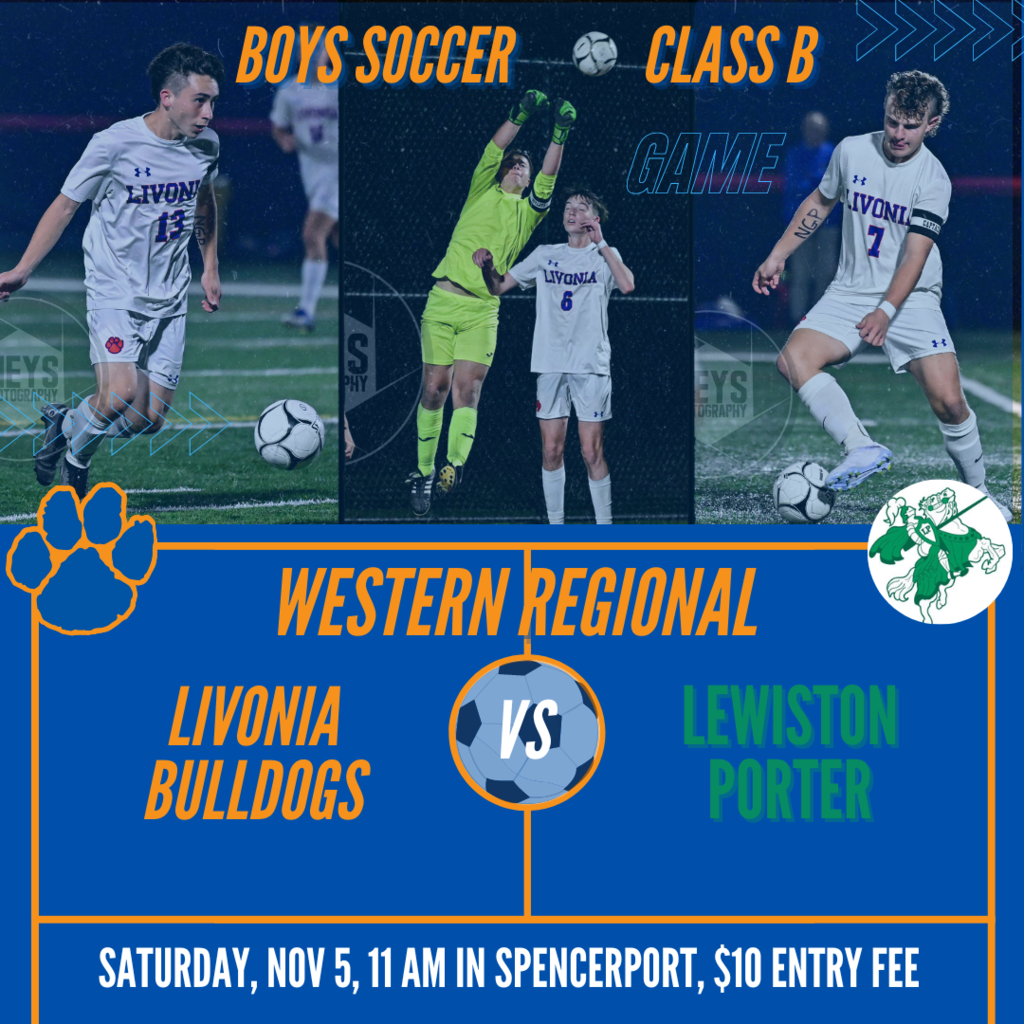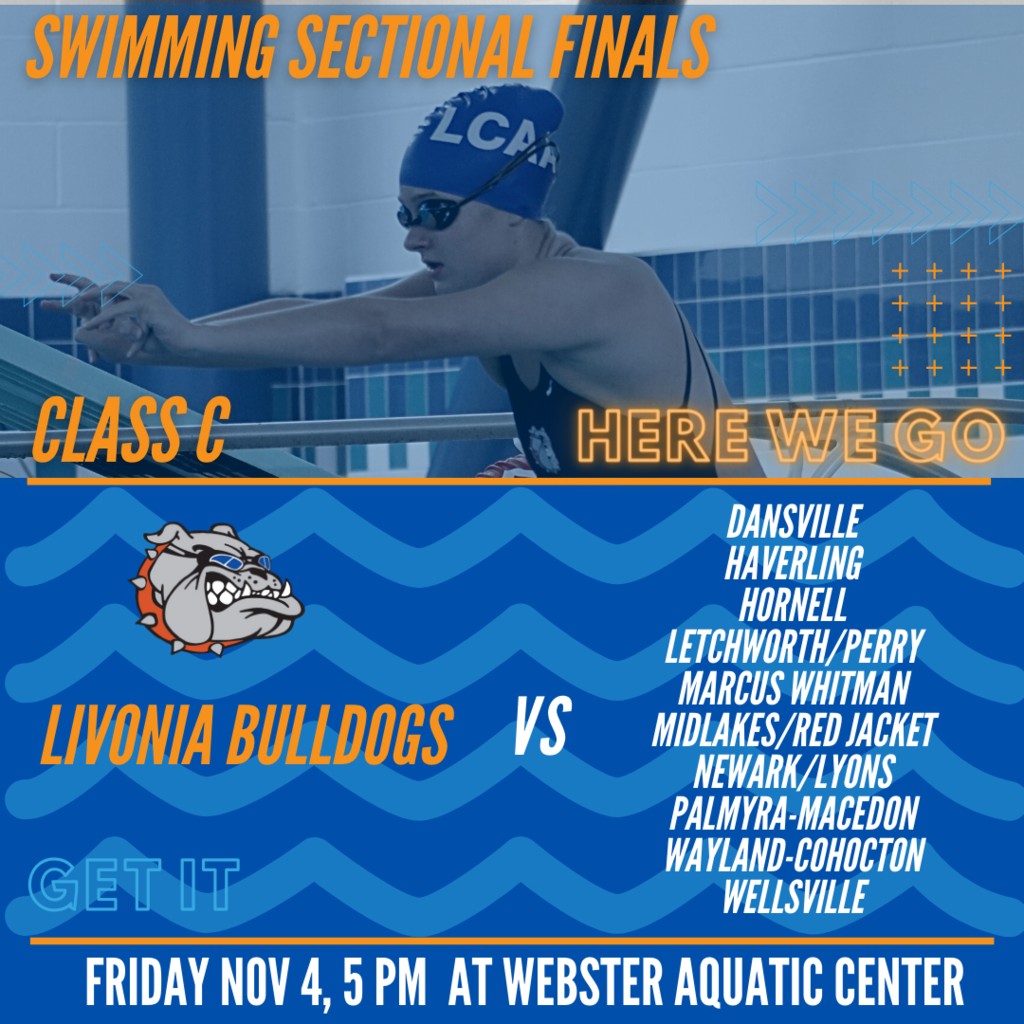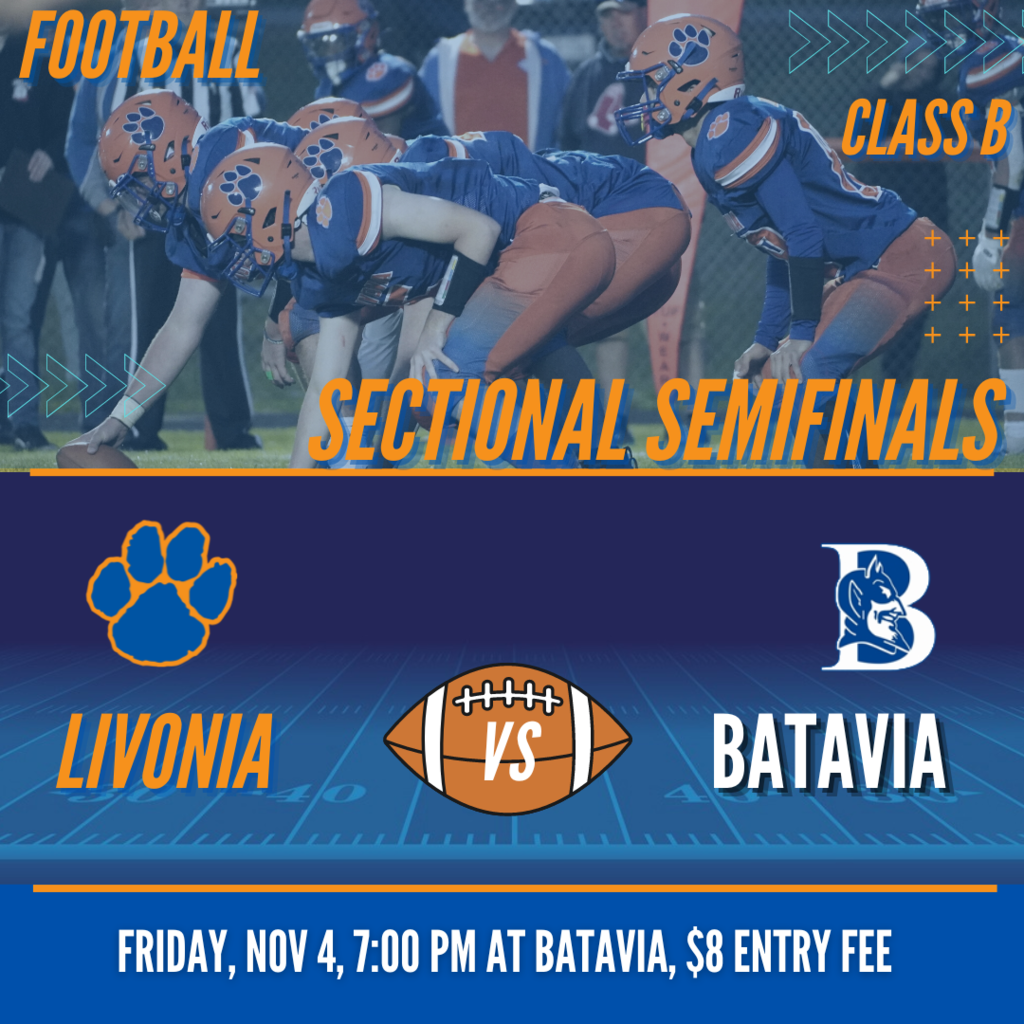 🧡💙 Tuesday Night Sectional Action 🧡💙 🏊‍♀️ Girls Swimming Sectional Prelims at 5PM at the Webster Aquatic Center. In order to qualify for finals the girls have to place in the top 16 tonight in their events.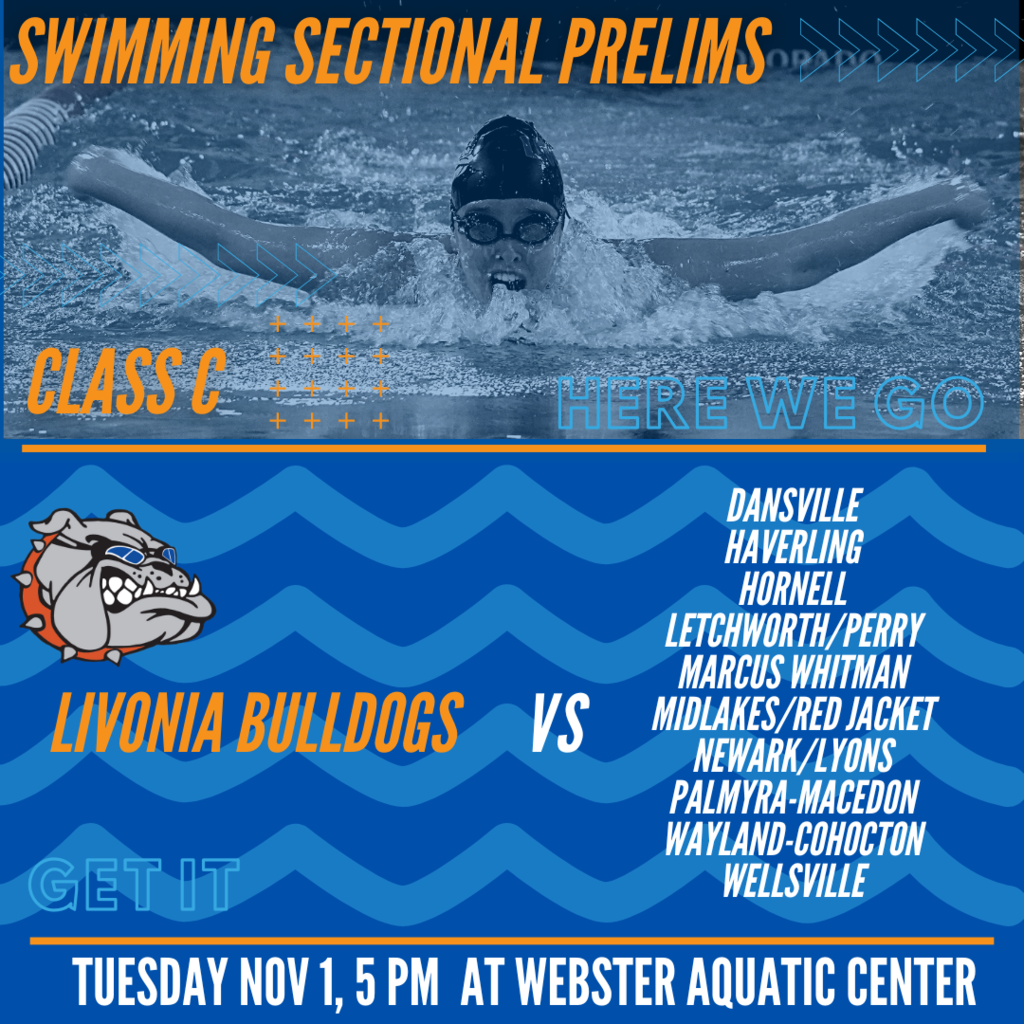 Will the real Coach Gilman please stand up! The PE Department is having a fun Halloween dressed up as their recently retired colleague. They are even sporting his NYS Champ ring.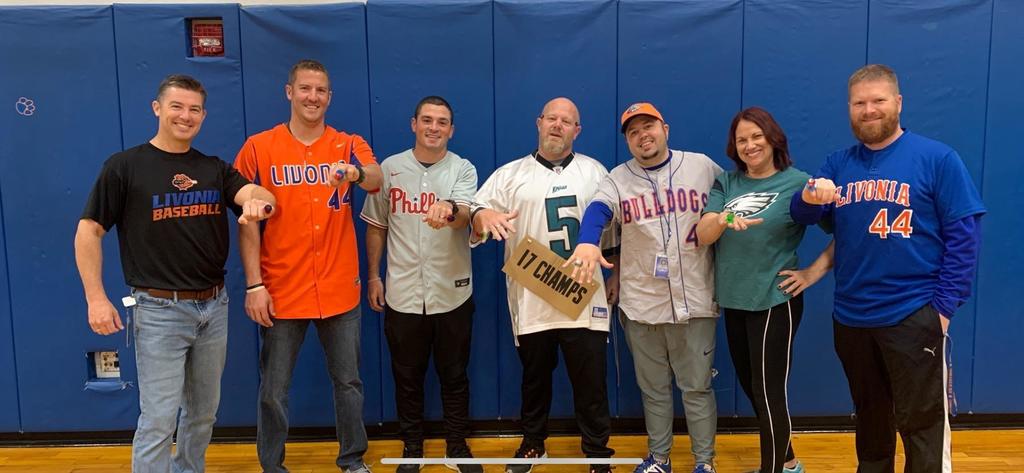 Weekend Wrap-up 🏃‍♂️ The Varsity Cross Country team had a wonderful weekend at their League Championship in Byron Bergen. Cami Rode came in 12th in the Division 1 girls race followed by Alyssa Healy, Ollie Turek, Carly Lang, and Reagan Sykes. In the boys race Chris Coyle came in 2nd in Division 1-earning himself the honor of a Division 1 all-star! He was joined by Matt Mulvaney and Ryan Bosch who also placed in the top 10 and earned themselves an All-Star Spot! The boys team was officially crowned as LCAA Division 1 champions for the 2022 season. Special congratulations to Coach Crabb and Coach Brongo on winning Coach of the year! Best of luck at Sectionals Varsity Cross Country! ⚽ The Livonia Boys Soccer team won the Section V Class B1 title on Saturday by the score of 1-0 over a strong #1 seeded Hornell team. Luke Fasso had the game's only goal, assisted by Connor Feehan. Goalkeeper Peter Tonkery was "Man of the Match" with several top drawer saves to keep the Bulldogs in the game, and was chosen the Class B1 Tournament MVP. The boys improve to 17-1-1 and advance to Wednesday night's Class B state qualifier against B2 champs Bishop Kearney/Chesterton at Canandaigua. Kickoff 5:45 PM. 🏈 Livonia football Class B Quarterfinal 4th seed Livonia 44 5th seed Wayne 6 Jack Kearney 14 carries for 94 yds and 1 td Kyle Weterrings 12 carries for 97 yards and 2 tds Owen Weterrings 11 carries for 103 yds and 3 tds Maddox Olsen 6 carries for 50 yds Owen Weterrings 5 tackles TJ Gause 5 tackles and 1 sack Kyle Weterrings 1 forced fumble and 1 fumble recovery Jackson Cook had a fumble recovery Livonia totaled 344 yds of offense - all on the ground - as the Bulldogs won their 4th game in a row 🏐 Girls Volleyball had a tough loss on Friday against #3 seed Newark. They lost in three sets 24-18, 25-18, 25-20. Sara Johnson had 1 kill 10 digs Emma Simmons had 2 aces 10 kills 7 digs 1 block Lillie Capecci had 2 aces 8 assists 1 kill 8 digs Hannah Ingram had 1 ace 2 kills 6 digs Julie Renner had 1 ace 9 assists 10 digs Ella Keller had 2 aces 2 kills 3 digs Ava Simmons had 2 aces 2 kills 1 block The Bulldogs ended their season 14-6.😢 🏊‍♀️ Livonia Divers placed 9th and 11th at the Sectional Championship on Saturday. The swimmers hit the pool on Tuesday and again on Friday.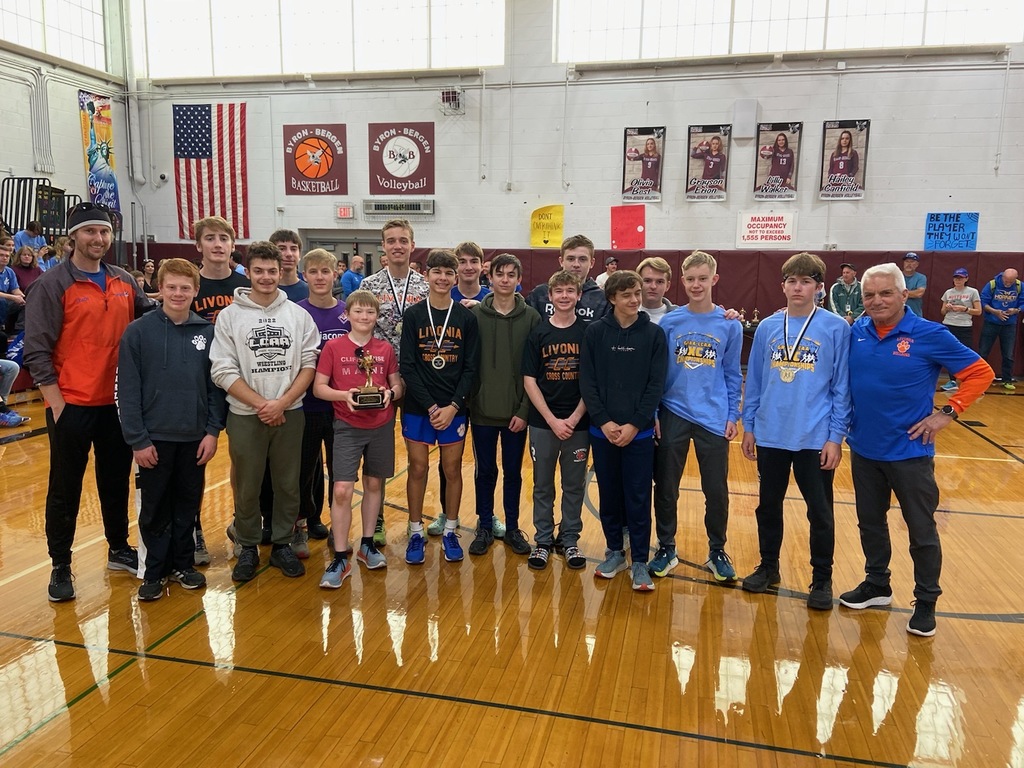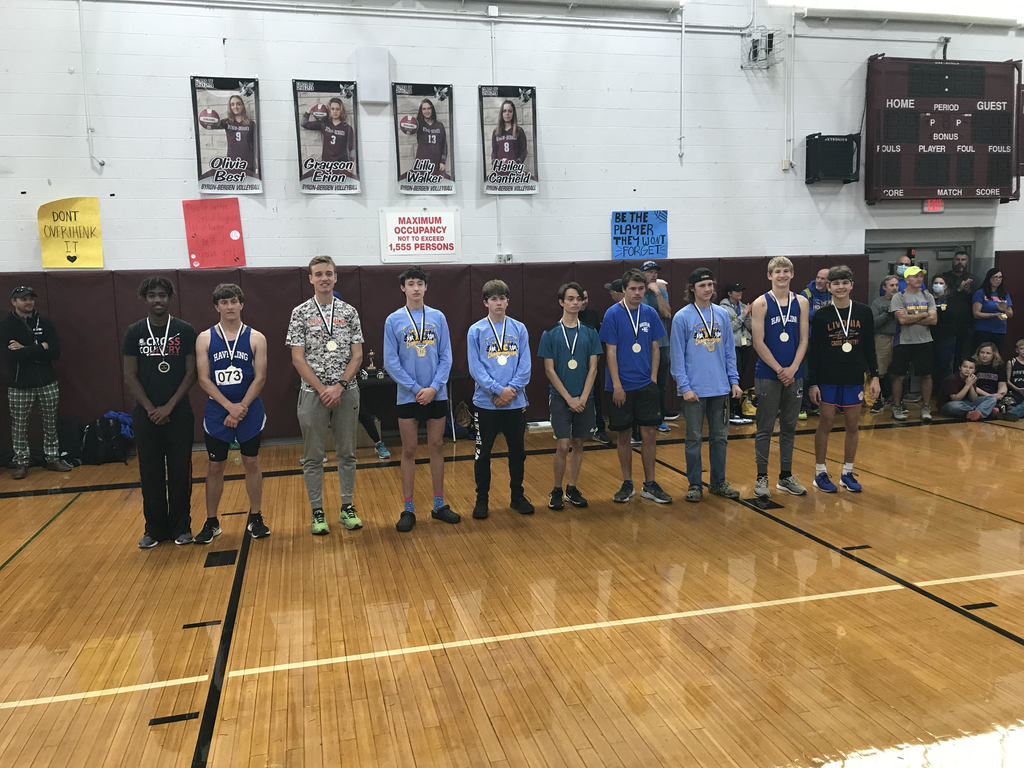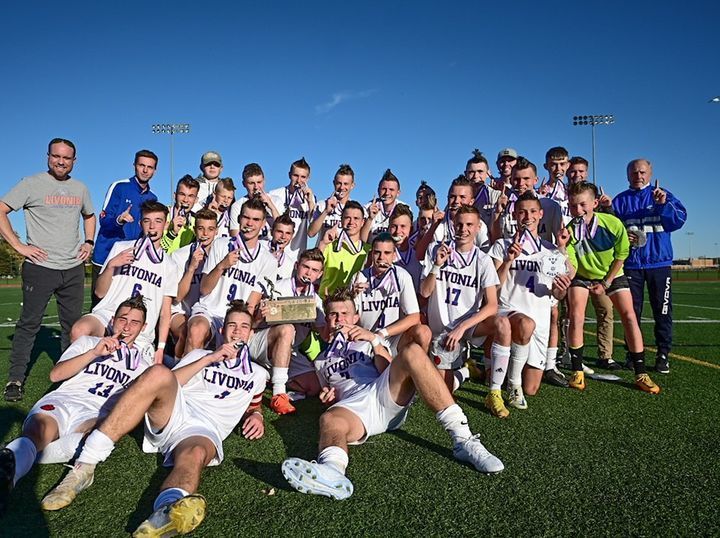 🧡💙 Saturday Athletic Action 🧡💙 🏃‍♂️🏃‍♀️ Cross-Country County Championships in Byron-Bergen starting at 10 AM ⚽ Boys Soccer Sectional Finals vs Hornell at HFL at 2:30 PM (📷 Alex Brasky) 🏊‍♀️ Divers head to Churchville-Chili for Class C Diving Sectionals at 4 PM 🐾 Let's go Dawgs!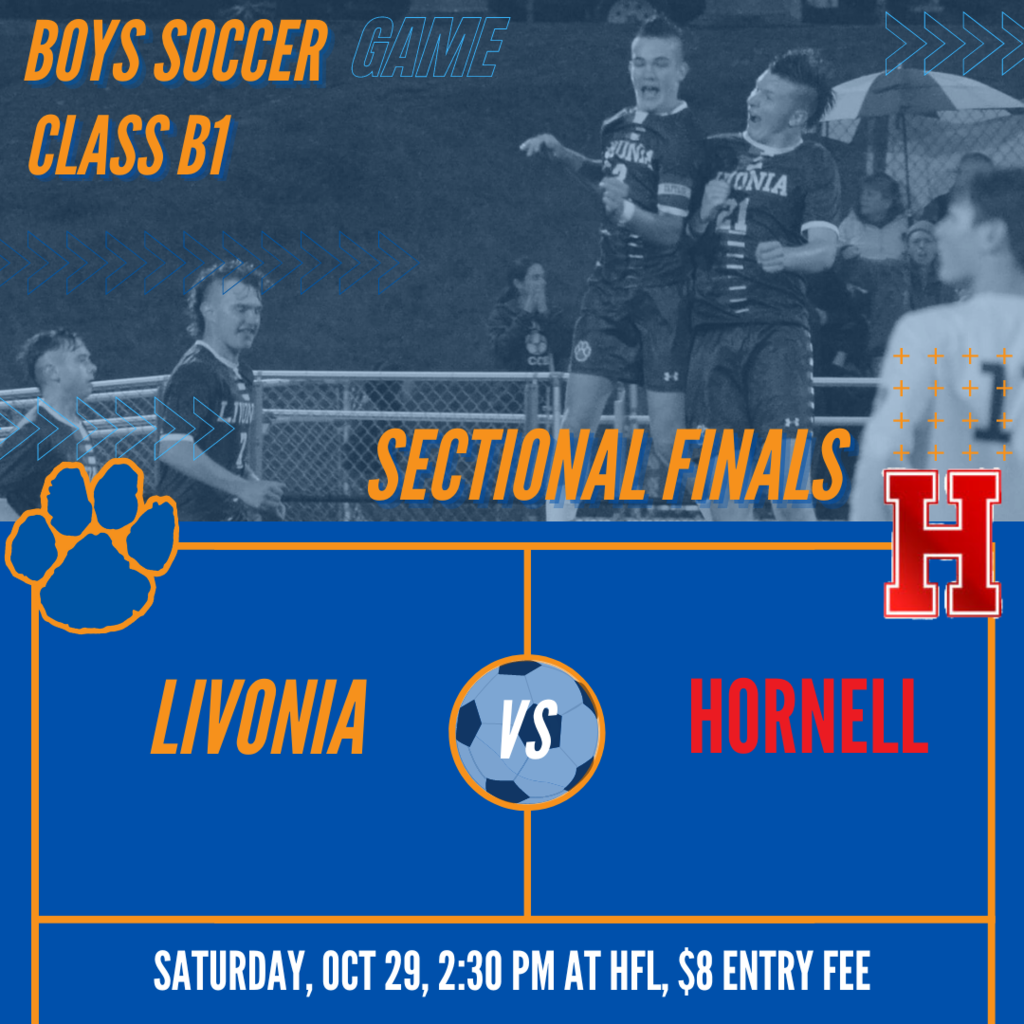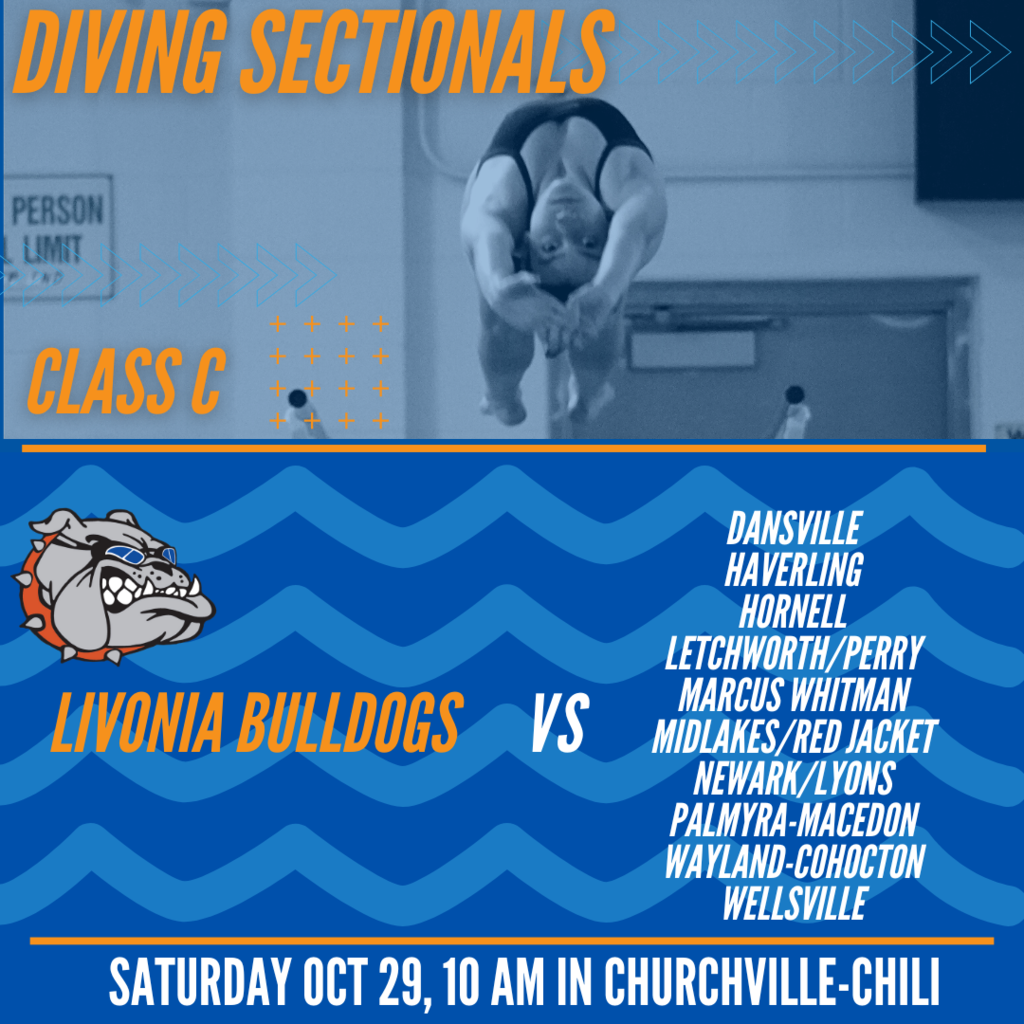 🏐 Girls Varsity Volleyball started the 1st round of sectionals with an easy win over Rochester Prep, taking the match on 3 sets 25-6, 25-6, 25-6. Sara Johnson had 1 ace Emma Simmons had 2 aces 2 kills 3 digs Lillie Capecci had 6 aces 1 assist 1 dig 1 block Hannah Ingram had 1 ace 1 kill Julie Renner had 10 aces 9 assists 1 dig Ella Keller had 2 aces 1 assist 2 kills 2 blocks Ava Simmons had 3 aces 3 kills Megan Tumminelli had 1 ace 2 kills 1 block Morgan Meys 1 kill Kaylie Hasfurter had 1 ace 1 kill 1 dig The girls advance to the Quarterfinals against Newark Friday night at Newark at 6PM

🏀 Bouncin' Bullpup Registration now available for girls PreK-6th Grade. If you have questions please email Coach Schuster at
kschuster@livoniacsd.org
.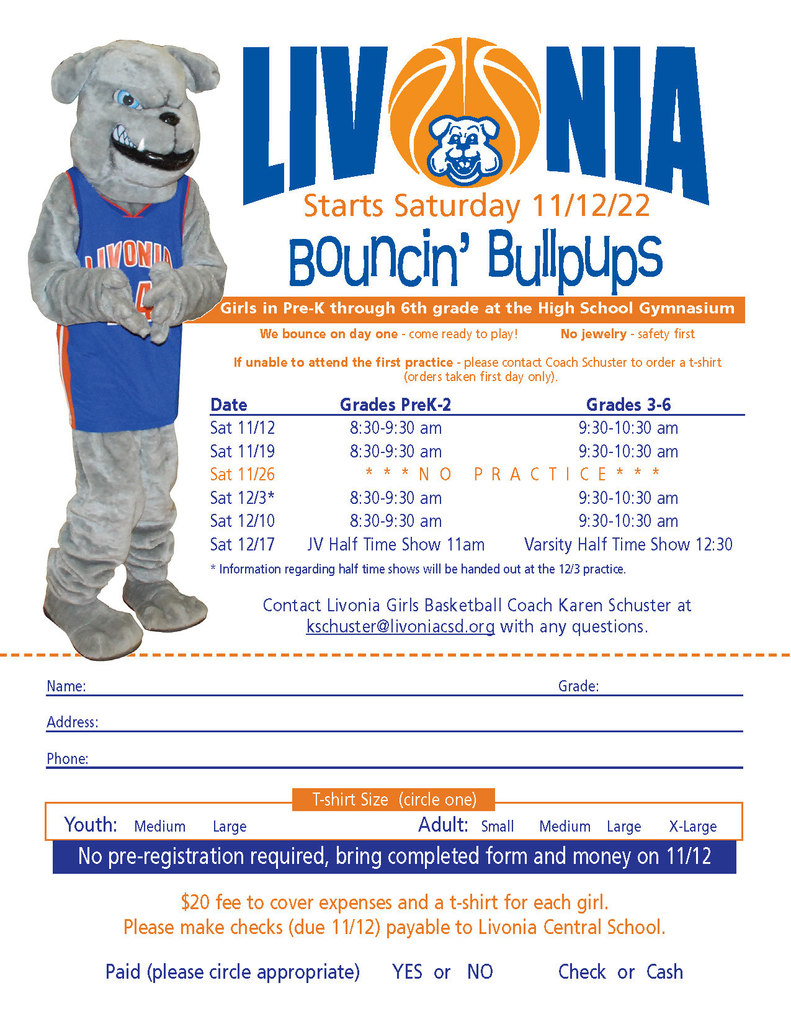 ⚽ The girls varsity soccer season ended last night after a hard fought game against Pal-Mac under the lights in Canandaigua. Final score 1-0. Congratulations on a great season Lady Dawgs! Thank you to Meys Photography for all the great photos this soccer season!