Weekend Wrap-Up 🏃 Another notable performance from the boys & girls indoor track team Friday night at RIT. - Boys 4x4 relay dropped 9 seconds and ran a 4:12.83 - Silas M. placed 10th in the 3200, dropping 13 seconds with a 11:22.01 - Brick S. placed 13th in the 55 hurdles, with his best time on the season of 9.52 seconds - Keira W. ran the girls 600 at 2:04.43, her best time of the season while dropping 13 seconds - Aiden B. dropped his 1600m time by 14 seconds, coming in at 5:31.52 - John M. placed 8th in boys high jump at 5'0, a personal best for the season - Kaitlyn K. placed 3rd in girls shot put with a throw of 28'7 3/4, a personal best by over a foot - Mackenzie L. placed 8th in girls shot put with a throw of 26'3 1/4, a personal best by over two feet. 🏀 JV Girls Basketball fought to the bitter end but fell short on Friday losing to Dansville 44 to 39. The Lady Bulldogs were led by Gwenyth Strom with 12 points followed by Molly Rowe with 9 and Molly Hitchcock with 8 points. We'll get 'em next time girls, good game! 🏀 Varsity Lady Bulldogs defeated Dansville Friday 42 to 29 in a very physical match up. This brings our season record to 11 and 1. We were led by Senior Captain Kylie Buckley with 22 points and 9 rebounds followed by Libby Kwak with 11 points and her sister Mary Kwak with another 6 points and 8 rebounds. 🏀 The Livonia Boys Varsity basketball team hosted league opponent Dansville on Friday night and came out victorious by a score of 69-61. The Bulldogs trailed the Mustangs 30-17 at the half, but went on an incredible 52-31 run in the second half to seal the victory. Chris Coyle scored a game high 30 points, scoring 22 points in the second half. Junior guard Connor Feehan netted 20 points, 14 of those in the second half, and 5 assists. Sophomore guard Nick Coyle hit to big 3's in the fourth, and scored 7 points along with 6 assists in the game. Jack Kearney scored 5 points and 10 rebounds, Jackson Cook 4 points, Lucas Ray 2, and Gavin Woolston 1 point. 🤼‍♀️ Congratulations to our Girls Wrestling Team! At the Canandaigua Tournament Saturday, Ady West placed 3rd out of 9 girls. Destiny Latimer placed 2nd out of 6 girls.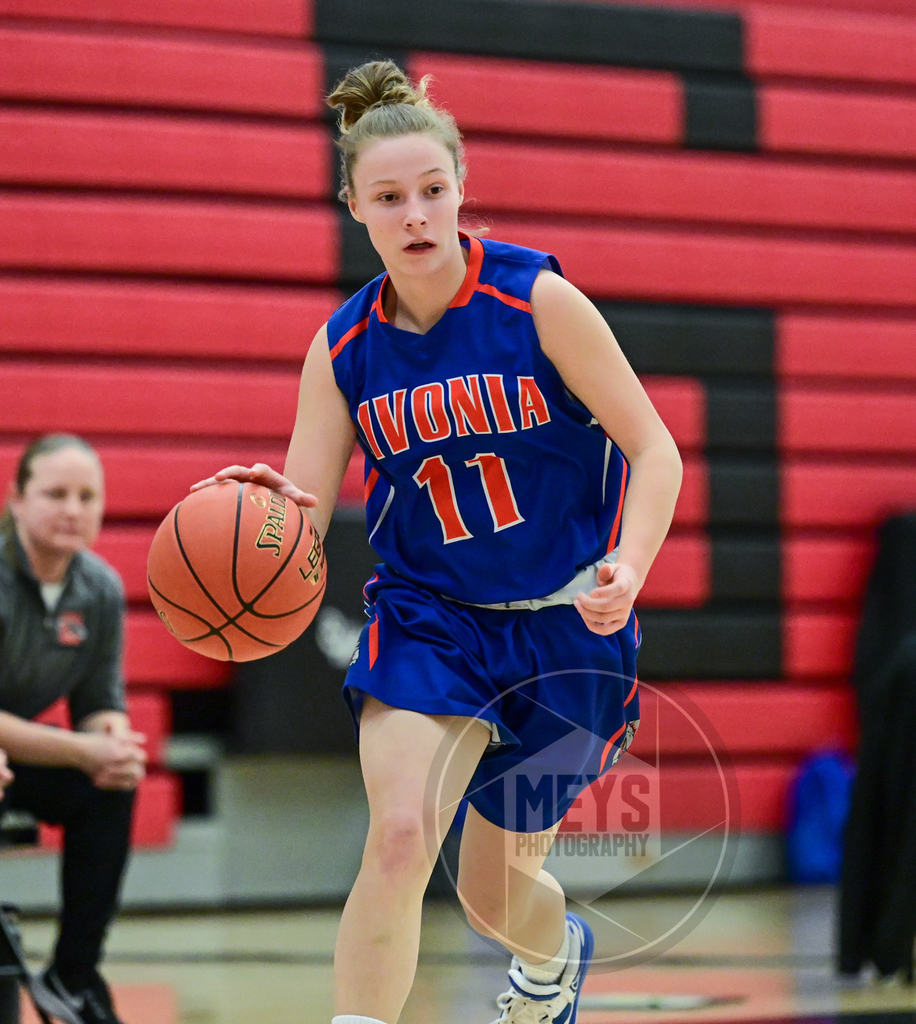 It's Senior Night for Swimming and Diving! Athletes will be celebrated at their meet tonight at 5PM. Congratulations Logan, Matt, Will, Zack, Luke, Ethan, Michael, and Stefan! We hope you can join us and celebrate their accomplishments!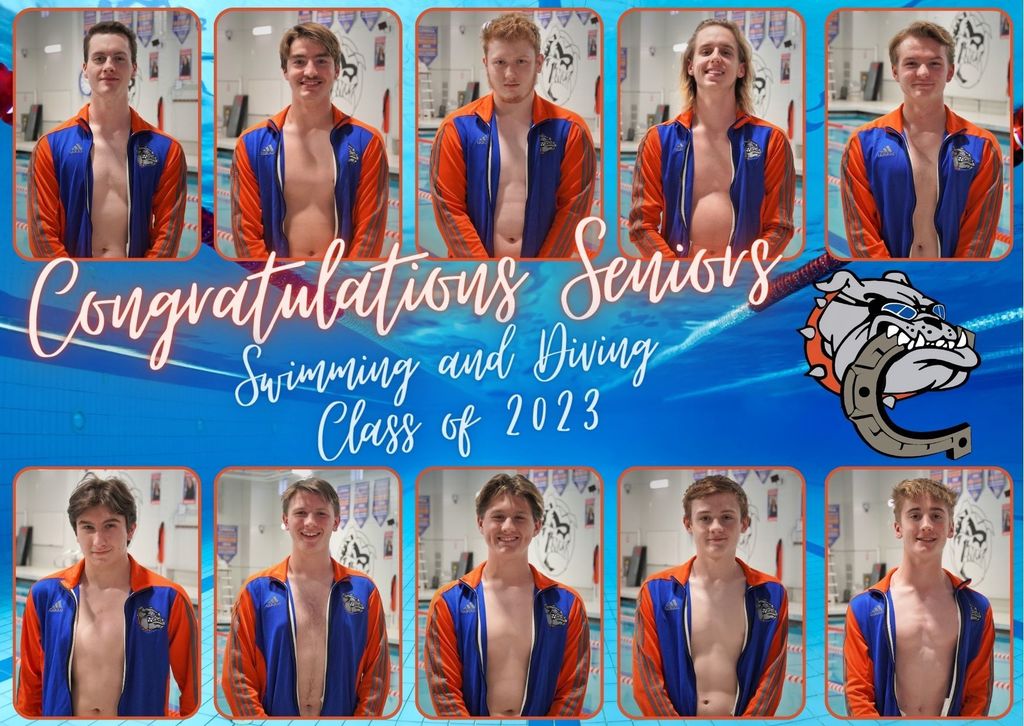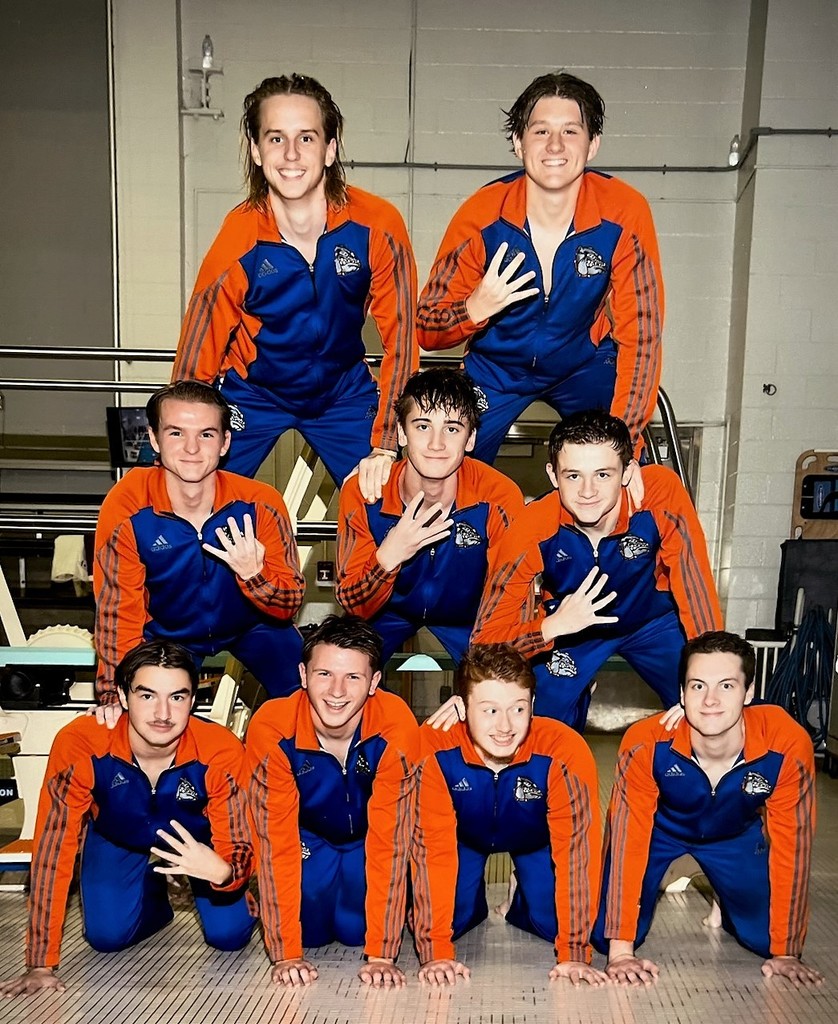 Well it's official! The record board is updated. Senior swimmer Lila M. Is the fastest swimmer from Livonia Girls Swimming and Diving program. Breaking a 13 year old 50 free record.

Become a sports official! Visit highschoolofficials.com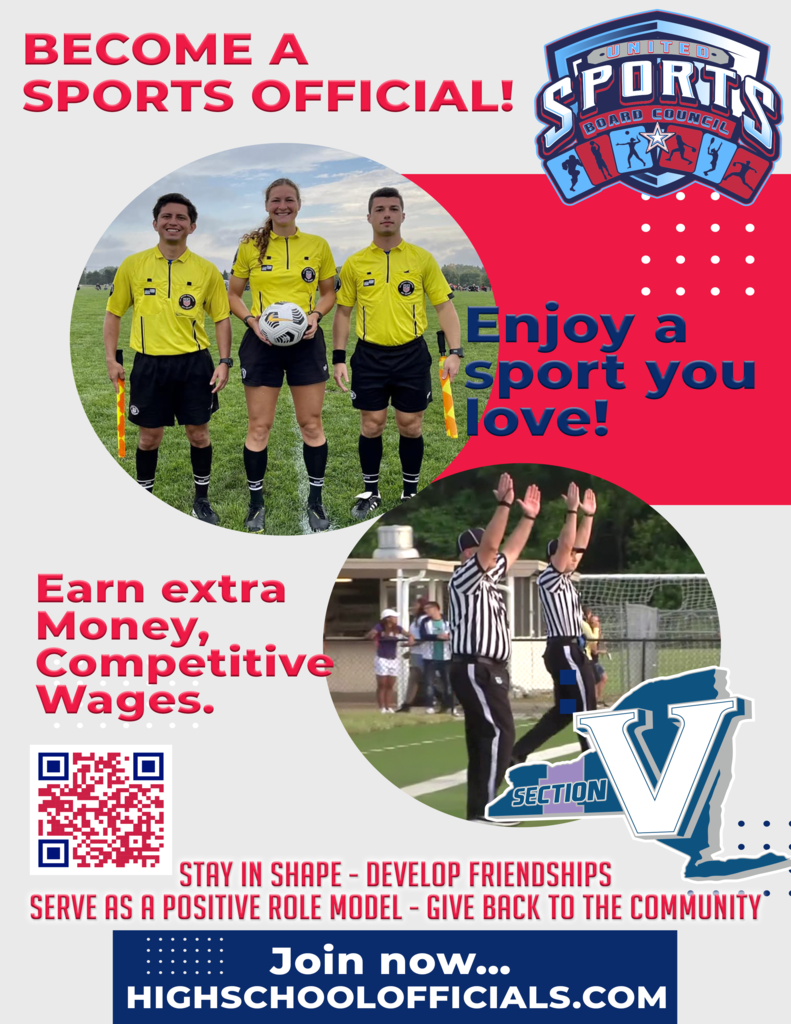 🏊‍♂️The boys varsity swimming and diving Bullstangs showed up in Bath tonight, to take care of last year's Division I champion, winning 160-99. The team posted a staggering 49 best times throughout the meet, adding two more qualifiers to Class B Sectionals. Lane-chain Swimmer of the Meet is Noah Rode, who dropped over 11 seconds in his 200 Free - 2:13.87 and dropped over 38 seconds in his 500 Free - 6:09.60. Both are qualifying times for Sectionals. Next meet is Tuesday 1/17, Senior Night against Geneseo. Bullstangs are 6-1 on the year. 🏒 Tuesday night varsity Lakers hockey fell to WFL Panthers. WFL opened up the scoring in the first period with 2 goals back-to-back. Lakers were slow to respond and were not able to answer back in the first. In the second period, defenseman Jared Bishop scored his first ever varsity goal on the first Laker power play of the game assisted by James Hy. WFL scored another pair toward the end of the second ending the period 4-1 in favor of the Panthers. Then in the third period the Panthers netted another pair. Late in the third, Joey Cinquino scored off a pass from Christian Rumfola, on the power play, then in the last minutes of the game Christian Rumfola scored with an assist from Jack Ruter. Nick Lipome had 25 saves in net. Lakers struggled finding the back of the net this game but created many opportunities, and had over 20 shots on goal, the Lakers also drew multiple penalties in the second and third periods which put them in several "one man up" situations. Final tally on the night: Lakers 3- WFL 6. The Lakers will play again again on Tuesday 1/17 away at Faletti Arena in Batavia and then at home on Thursday 1/19 when we will also celebrate teacher appreciation night! 🏀Varsity Girls Basketball defeated LCAA-D1 opponent Hornell tonight 61 to 43. We were led by Kylie Buckley with 18 points followed by Libby Kwak posting 17, Mary Kwak with 13 and Kierstin Einhiple added another 11. Balanced scoring, good teamwork! 🏀JV Girls Basketball defeated Hornell 51 to 35. Molly Rowe teamed up with Molly Hitchcock scoring 16 and 14 points respectively - HOLY MOLLY! Sid Clickner added another 9 points and Gwen Strom dropped 8 of her own. Great game girls, GO LADY BULLDOGS!!!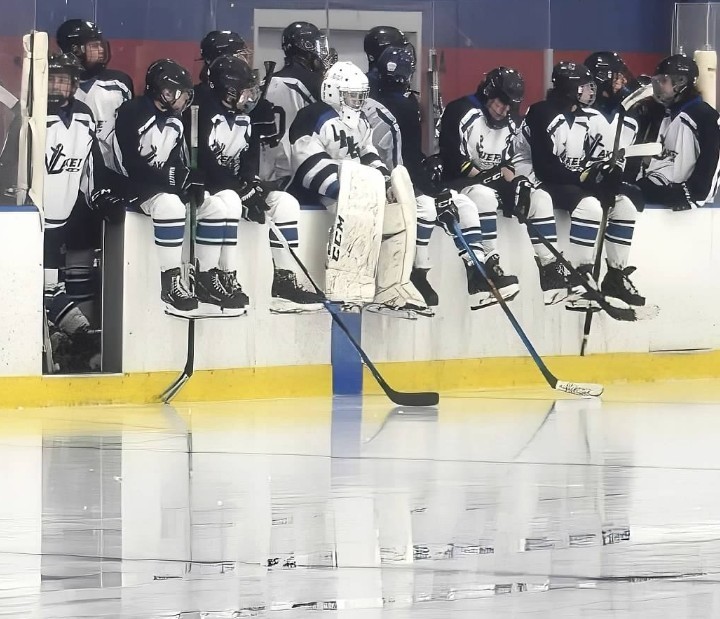 🏒 The Lakers play tonight vs Wayne Finger Lakes at home in Geneseo! Join us for some action packed hockey! Puck drop is at 7pm!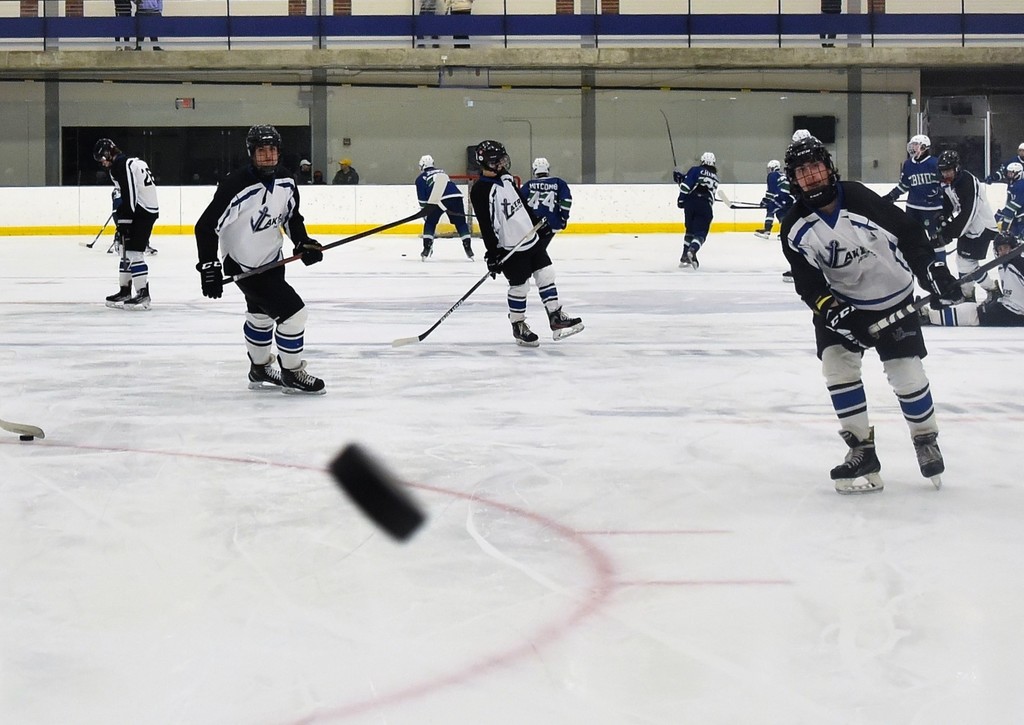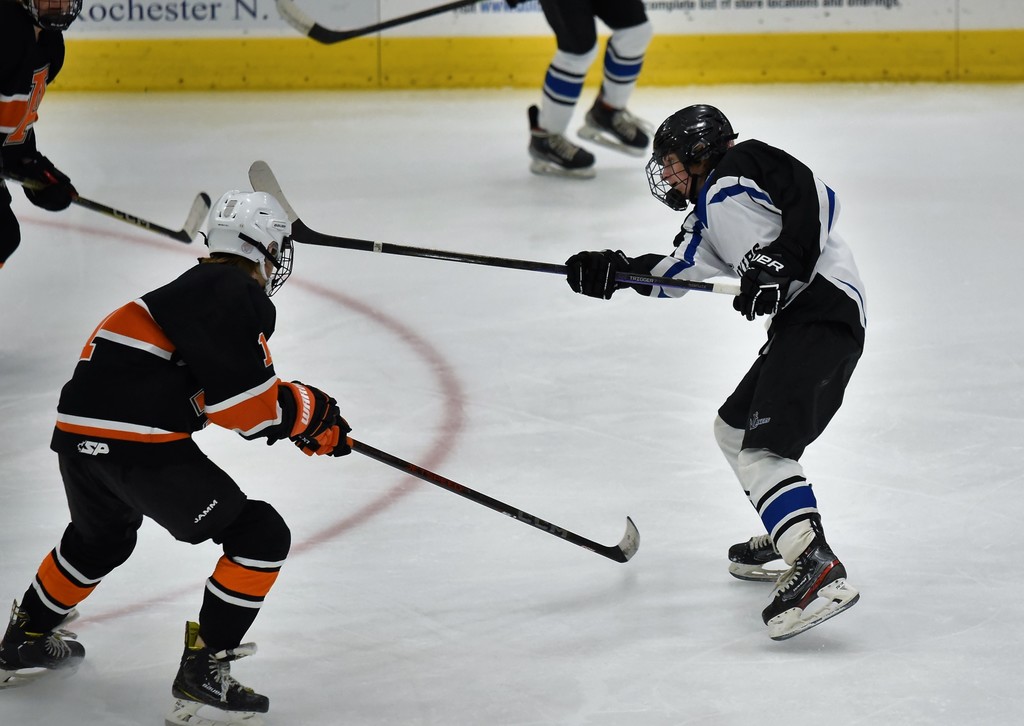 Weekend Wrap-up 🏀 Boys varsity basketball Livonia lost to York 52-70. The Bulldogs took a 35-31 lead into halftime but couldn't sustain the lead as host York outscored the Bulldogs 39-17 in the second half. Chris Coyle led the Bulldogs with a game high 16 points, 8 rebounds and 3 assists. Connor Feehan scored 12 points and Nick Coyle added 8 points and 5 assists. Jackson Cook added 6 points, Lucas Ray 5, Jack Kearney 3, and Tom Stewart 2. York had 5 players score in double figures, led by Connor Rodwell's game high 16 points. 🤼‍♂️2023 LCAA County Wrestling Tournament Varsity TJ Gauss placed 1st Myles Jarzyna placed 4th Louis Godfrey placed 5th Keegan Casagrande placed 5th Matt Barrett placed 6th JV Wrestling Isaac Smith placed 1st 🏀 Varsity Lady Bulldogs basketball defeated York Knights 65 to 30 led by Kylie Buckley triple-double with 26 points, 11 rebounds and 11 steals. Junior Libby Kwak banked 24 points of her own followed by her sister Mary Kwak with 6 points and 6 rebounds. GO LADY BULLDOGS!!! 🏀 Girls JV won 36 to 18 over York Knights. Balanced scoring led by Molly Hitchcock with 12 points followed by Sid Clickner with 10. Both Avery Snyder and Gwen Strom added another 5 of their own. GO LADY BULLDOGS!!! ⛷️ Livonia places 7 skiers in the top 15 in the first GS race of the season!!! 1. Jackson McEnerney 2. Max McEnerney 7. George Christian 8. Chas Doerflinger 10. Aidan O'Keefe 11. Caden Cavo 15. Owen Cavo Awesome job boys!!!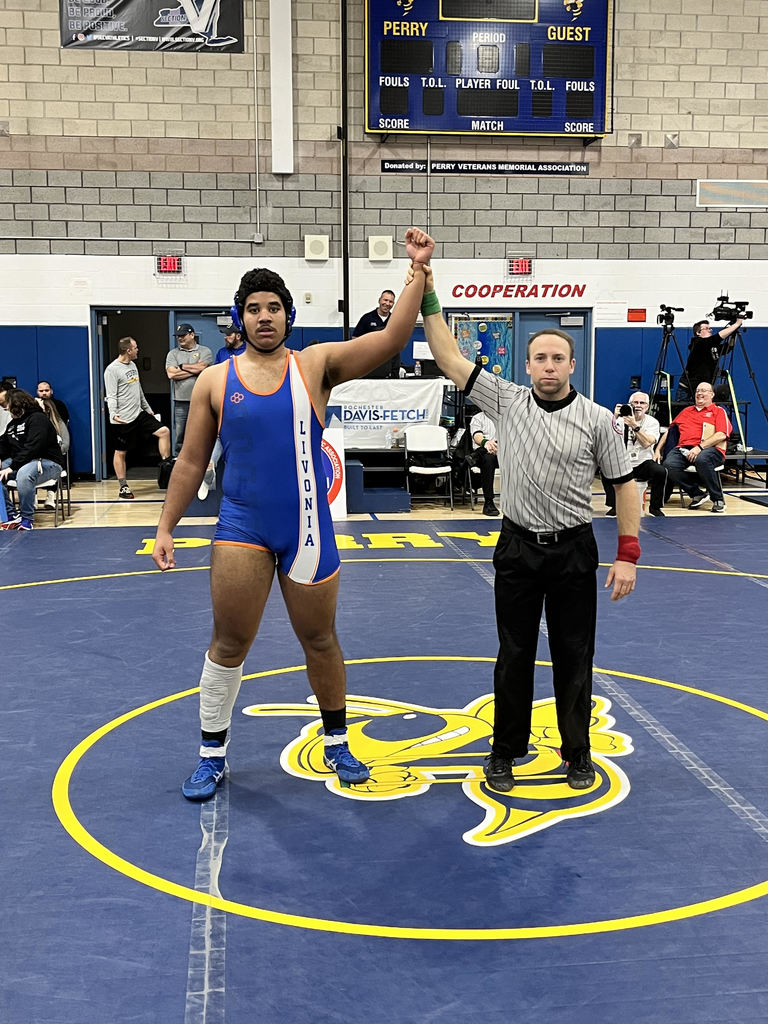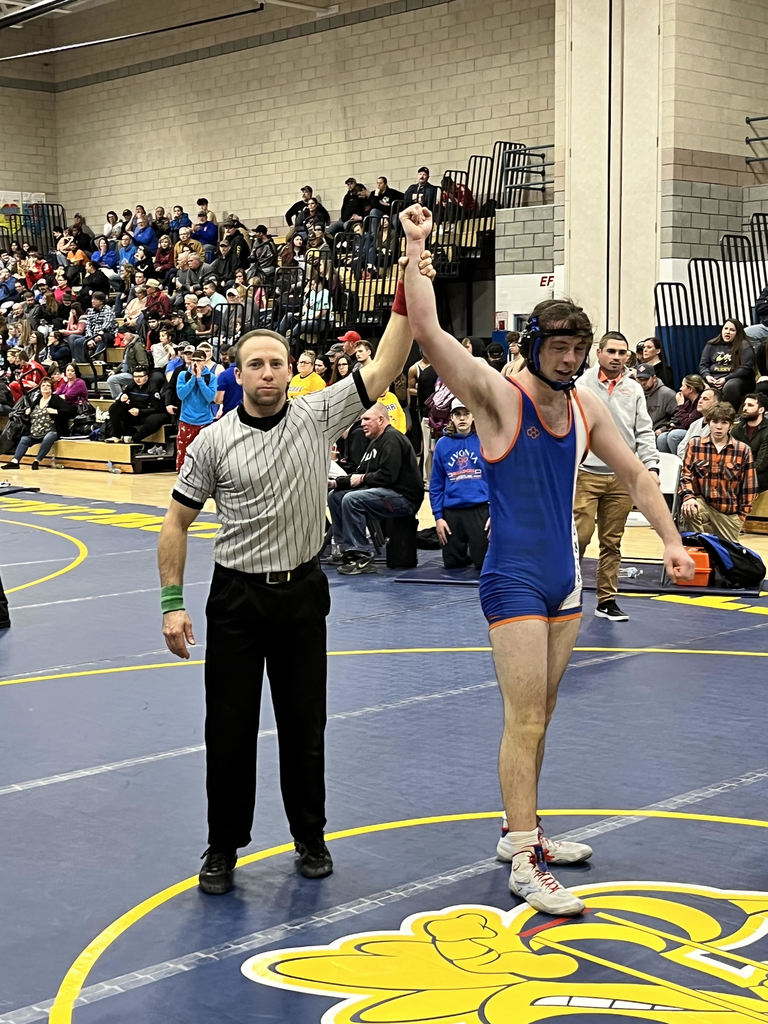 Wednesday Night Wrap-up 🏒 Injuries continue to take a toll on the Lakers Varsity Hockey team, they currently lack a starting defenseman and a starting offenseman/Captain, which has made for quite a rough patch mid season. But the team continues to grind through. The Lakers lost to a very strong Aquinas team last night at home 7-2. Despite a few heroic plays in net by Nick Lipome, AQ's high scoring offensive line took the lead early in the game. Some highlights include, an amazing effort on defense by Jared Bishop, blocking many shots and clearing the zone wherever he could. Ryan O'Duffy captured 2 points on the night with 1g and 1a, James Hy saw his second goal of the season, and additional assists were handed to Christian Rumfola, Joey Cinquino, and Jack Noto. The Lakers play again on Tuesday 1/10 at home against Wayne-Finger Lakes. 🏀 The JV Boys Basketball team went 1-1 in their past two contests. Over Winter Break, the squad traveled to HF-L looking to avenge an early season 26-point defeat. Though the 'dogs came up short 56-44, they now have distinct evidence that they are progressing. With the exception of the second quarter in which the 'dogs were outscored 22-10, the team played the Cougars evenly. Highlights of the game included sophomore point guard Brayden Amadeo's 20 points, which were aided by an impressive 8 trips to the free throw line and 3 3-pointers, and freshman guard Jack Henry's 15 points in his first start of the season. Henry also hit 3 3-pointers and dished out 6 assists. Sophomores Ethan Mack and Derrick Lane continued working hard on the glass with 10 and 18 boards respectively. On Wednesday, 1/4, the team was back home after three consecutive away games for a rematch against Marcus Whitman. The 'dogs were dominant from start to finish, earning the 59-27 victory. Coach Martin says, "I told the boys in the locker room after the game that nights like this mean the most to me, not because of the win but because of the true team effort. All players saw the floor for several minutes at a time; all players have at least one mark on the stats sheet; eight players have their names in the scoring column; countless selfless passes were made in transition; and, support from the bench was the best it has been all season. Games where we can display what all of us have been working on together are just awesome." Swingman Mack was a force to be reckoned with, finishing the game with 21 points (11 in the first quarter), 8 rebounds, 4 assists, 3 steals, and 3 blocks. Also scoring for the Bulldogs were Amadeo (11), Lane (9), and Henry (5), sophomores Ryan Bosch (6) and Cameron Mellen (3), and freshmen Owen Austin (2) and Kaidan O'Connor (2). The team travels to York this Friday to battle a gritty Golden Knights group. 🏀 Varsity boys basketball beat Marcus Whitman 54-45 last night. Connor Feehan scored 12 of his 13 points in the second half, including 4 -3 pointers, as the Bulldogs got the win against the visiting Wildcats. Chris Coyle scored a double-double with a game high 16 points and 11 rebounds. Nick Coyle added 7 points and 5 assists. Finishing out the scoring for the Bulldogs were Lucas Ray, 6 points. Jackson Cook 4 points , and Jack Kearney and Tom Stewart had 3 points a piece.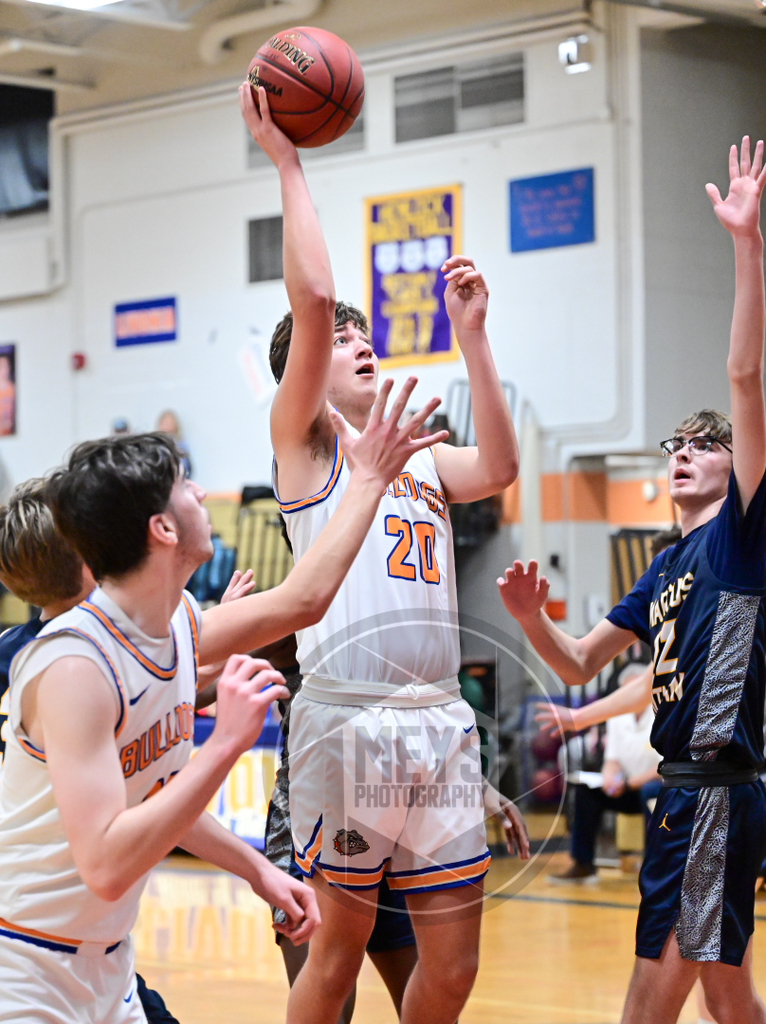 The Lakers play at home tonight at the SUNY Geneseo's Ira at 7:15pm vs Aquinas! They are down a handful of players to injuries and could definitely use some fan support!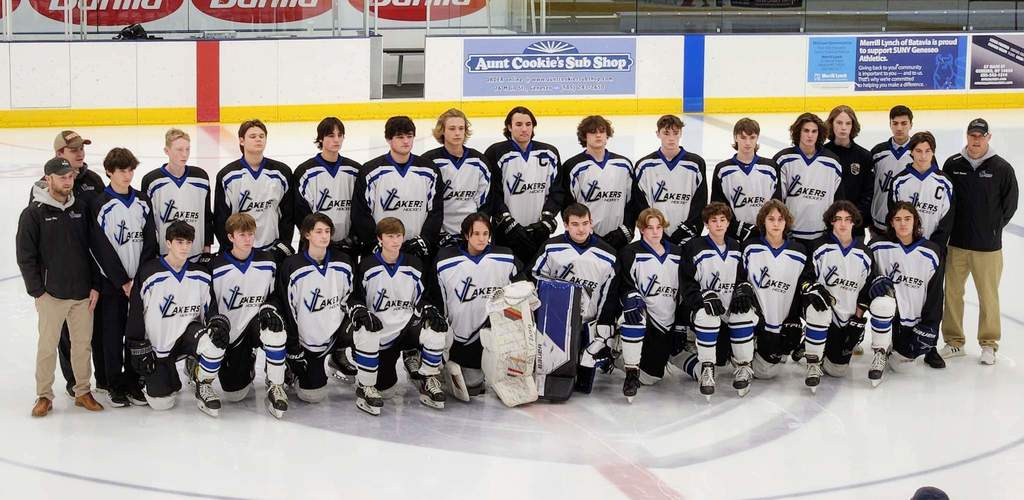 Tuesday Night Wrap-up 🏊‍♀️ The Boys Swimming and Diving team topped Hornell, 95-61. The team totalled 38 best times throughout the meet. Lane-chain swimmer of the meet was Mike Neckers for his personal best times in the 200 Free - 2:11.21, and 500 Free - 5:59.21. The teams next meet is next Tuesday @ Bath. The Bullstangs are 5-1 on the season.

Thursday Night Wrap-up 🏊‍♂️ The Boys Swimming and Diving team topped long time rival Avon, 103-81. The team totalled 32 best times with 13 sectional qualifiers. Lane-chain swimmer of the meet was Logan C. for his season best time in the 50 Free. The team is 4-1 on the year. Next meet is a tri-meet @ Avon with Hilton, 12/28. 🏀 Led by sophomores Brayden Amadeo, Derrick Lane, and Ethan Mack, all three of whom finished the game with a double-double, the JV Boys Basketball team stunned Class A Wayne with a 52-48 victory on Thursday night. Amadeo, who faced a box-and-one defense most of the game, ended the contest with 14 points and 10 rebounds. Mack, who typically plays in the post but finally had the opportunity to extend out on the perimeter, also finished with 14 and 10. First-year post player Derrick Lane turned up to a new level, accumulating 16 points and an incredible 27 rebounds by game's end. "I am so proud of these guys and the corner they turned against an extremely competitive Wayne team on Wayne's home floor. Also, I think it is important to acknowledge all 14 players on our roster as the increased intensity, competitiveness, and accountability in our practices is a huge part of our noticeable in-game improvement," Coach Martin notes. Sophomore Aveion Santiago scored 7 points and had 5 steals in his first start of the season, and sophomore Ryan Bosch rounded out the scoring with a free throw. Mack's 5 assists led the team in that column. The boys will return from a four-day break with some focused practices next week and a re-match against the Honeoye Falls-Lima Cougars at their place next Friday, 12/30.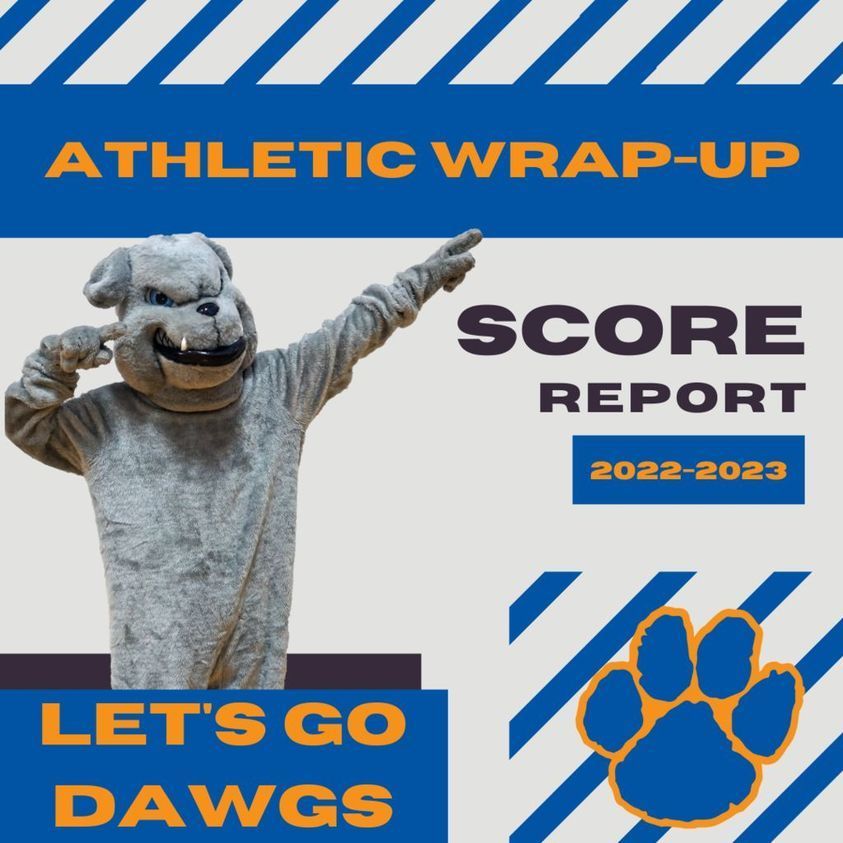 Tuesday Night Wrap-up 🤼‍♂️ Our bulldog wrestlers defeated LeRoy last night 39-34 🏀 Last week, the JV Boys Basketball team dropped a couple of tough games against Class A schools Canandaigua and Honeoye Falls-Lima. Highlights included sophomore Ethan Mack's 8 points and 5 rebounds versus Canandaigua and 8 of 13 players putting the ball in the basket against HF-L. The team was looking to build some momentum at Wayland-Cohocton on Tuesday night, and they did just that with a 44-29 victory in which all 12 players played important minutes. Scoring for the Bulldogs were sophomores Brayden Amadeo (17), Ryan Bosch (2), Derrick Lane (5), Ethan Mack (2), Cameron Mellen (2), Aveion Santiago (4), and Cayden Tuchrello (3) as well as freshmen Carson Beardsley (3), Kaidan O'Connor (5), and Chance Watkins (1). Lane commanded the boards with 10 rebounds, and the team created chaos defensively as per the game plan, forcing Way.-Co. into 20+ turnovers. Amadeo led the team with 6 steals while classmate Santiago added 4. The boys take on a tough Wayne squad at Wayne this Thursday before heading home for Winter Break. 🏀The Boys Varsity Basketball jumped out to a 18-5 1st quarter lead and never looked back last night beating Way-Co 76-28. Jack Kearney scored 8 of his 9 points in the first to pace Livonia early. Connor Feehan scored a game and career high 31 points, including 9-3 pointers, 7 of those in the second half to lead the Bulldogs scoring attack. Feehan added 4 steals as well. Chris Coyle scored 13 points, 6 rebounds and 4 steals. Sibling Nick Coyle added 9 assists and 7 steals. Nick has dished out an incredible 25 assists in the last three games. Tom Stewart finished with 7 points and 5 rebounds for Livonia. Matt Feinman led Wayland Cohocton with 12 points. Livonia travels to Wayne on Thursday night. 🏊‍♂️ The Boys Swimming and Diving team out swam Way-Coh, 89-79. The team posted 46 best times. The Lane-chain swimmer of the meet was Zack Kreiley who swam season best times in the 200 Fr - 2:01.77 and 100 Breaststroke - 1:06.47. The next meet is our rival neighbors to the North, Avon on Thursday, 12/22. 🏒 Varsity Lakers win 4-3 Tuesday night in non league action against the Amherst Tigers. The first period was slow paced and uneventful, ending with no score. In the second period, the Lakers were plagued by a number of penalties which the Tigers used to their advantage, ending the second period with the Amherst Tigers leading 2-0. In the third period the Lakers came to life, third period also saw many Tigers penalties and now it was the Lakers turn to capitalize. The first Laker goal was scored early in the third by Jack Noto off a pass from Dom Agosto on the power play. The second Lakers goal was also scored on the power play by James Hy, his first of the season, assists went to Joey Cinquino and Christian Rumfola. The third Laker goal was scored again on the power play by Joey Cinquino assisted by James Hy and Christian Rumfola. The Tigers answered back to tie it up 3-3 on a scramble in front of Lakers goalie, Nick Lipome. With only 3 minutes left, the Lakers had to work quickly. Christian Rumfola was able to knock in the game winner with assists from Hy and Cinquino. Final score, Lakers 4, Amherst 3. Some notable defensive play tonight by Travin Ellison drawing a major 5 min boarding penalty to Amherst which helped turn the tide for the Lakers in the third. Lipome was credited with 27 saves on the night. Great game, Lakers! Lakers will play again Thursday night at home against Notre Dame/Batavia at 7pm. 🏀 Teamwork led to every Varsity Lady Bulldog scoring tonight in a 68 to 7 victory over LCAA DI opponent Wayland-Cohocton. Junior Libby Kwak led the team with 24 points followed by Senior Kylie Buckley with 20. Senior Madison King added another 8 points and Mary Kwak had 6 with 11 rebounds. Sophomore Kierstin Einhiple scored 4 points with 10 rebounds. Emma King, Genny Strom and Morgan Meys all added 2 of their own. 🏀 JV Lady Bulldogs won 46 to 12 in our first LCAA DI game of the season over Wayland Cohocton! Balanced scoring led by Gwen Strom with 8 points followed by Alexia Olsen and Bailey Truthart both with 7.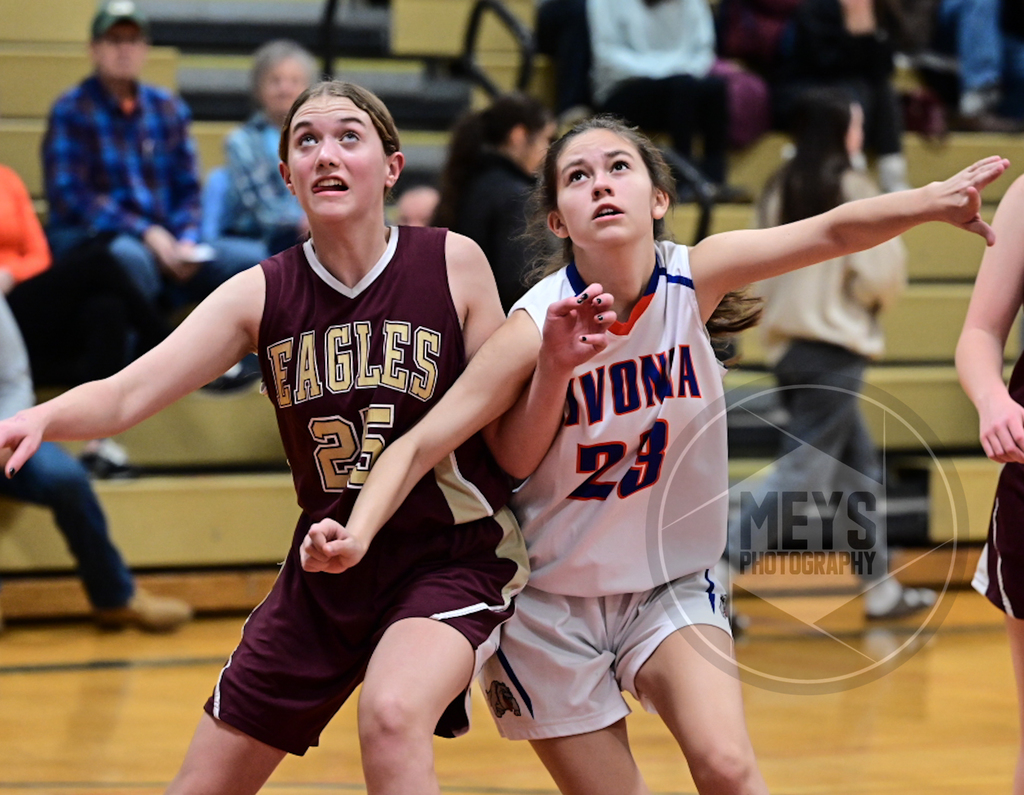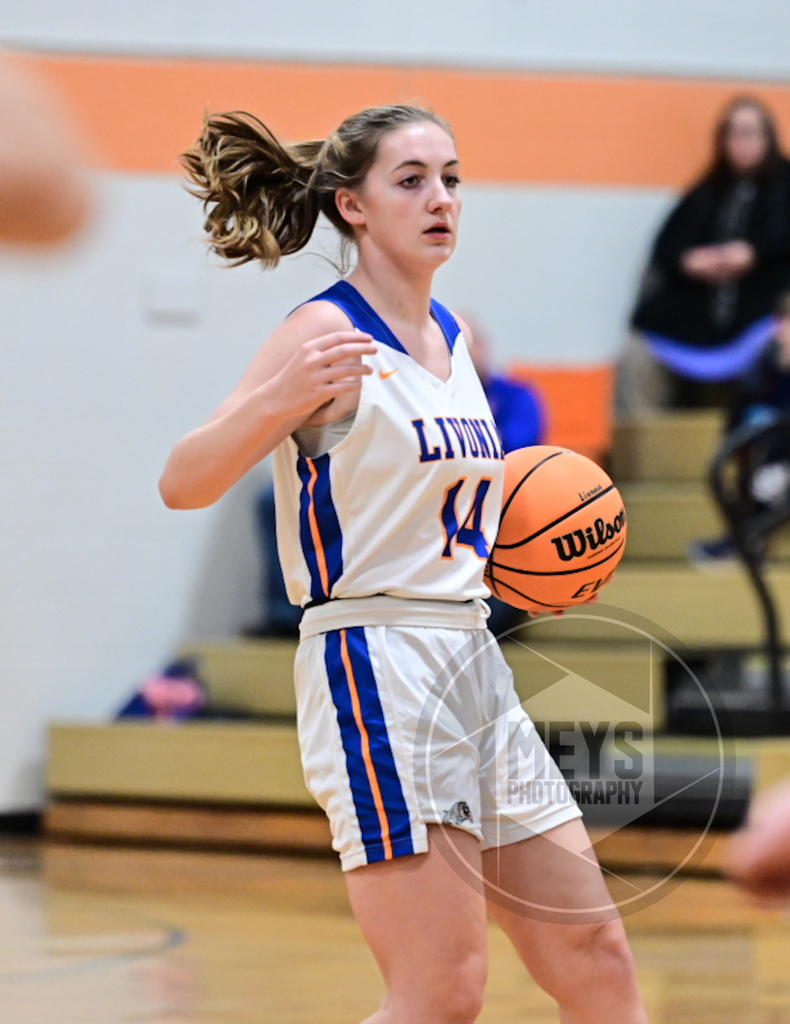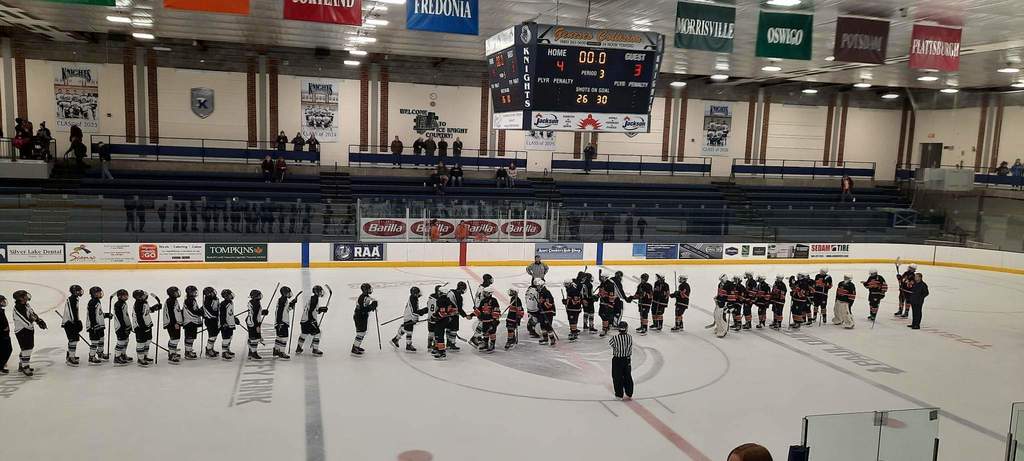 Weekend Wrap-up 🏊‍♂️ The Bullstangs Swimming and Diving team out performed Letchworth-Perry, 92-58 on Friday night. The team totalled up 50 best times throughout the meet. Lane-chain swimmer of the meet is Jack TeBeau who won the 50 free with a personal best time of 25.97. The teams next meet is Tuesday @ Way-Coh. The boys are 2-1 on the season. 🏀 Girls Varsity Basketball win over Class A Pittsford Sutherland Saturday 60-51! Led by Senior Captain Kylie Buckley with 35 points and 17 rebounds in a crazy physical game. Libby Kwak added another 12 points and Mary Kwak had 6 points with 12 rebounds. Good team ball! 🏀 Girls JV basketball experienced their first loss of the season in a low scoring game 39 to 17. Olsen, Strom and Hitchcock each scored 4 points followed by Gause with 3. We'll get back on track, GO LADY BULLDOGS!!! 🏀 Varsity boys basketball got their second win of the week against a class A team Friday beating HFL 69-65. The Bulldogs outscored the Cougars 43-35 in the second half after being down by 3 at the half. Connor Feehan had a game high and career high 21 points, along with 5 3 pointers and 3 steals. Chris Coyle added 19 points, 4 assists and 4 rebounds. Nick Coyle scored 9 points and 8 assists. Tom Stewart had 5 points, 5 rebounds. Owen Weterrings, Jackson Cook, Jack Kearney finished with 4 points and Lucas Ray added 3 points for the Bulldogs. The team travels to Way-Coh on Tuesday for their first league game of the season. 🏒 Lakers played a very strong game Saturday against a tough, undefeated Churchville Chili team in the annual Hilton Cadet Christmas Classic. The score definitely did not reflect the work ethic of our Lakers. Much of the game, the Lakers were within one point. The Lakers showed that they can play with some of the best teams in section 5. Jack Fitzsimmons had his first goal of the season, finding the back of the net early in the first and Jack Ruter scored the second of the game midway through the second. Fletch Kingsbury, Christian Rumfola, and Joey Cinquino all picked up assists tonight. Nick Lipome was phenomenal in net stopping 34 shots! Final score 5-2. This week we will play league games on Tuesday and Thursday, both games at home, both games at 7pm. Go Lakers!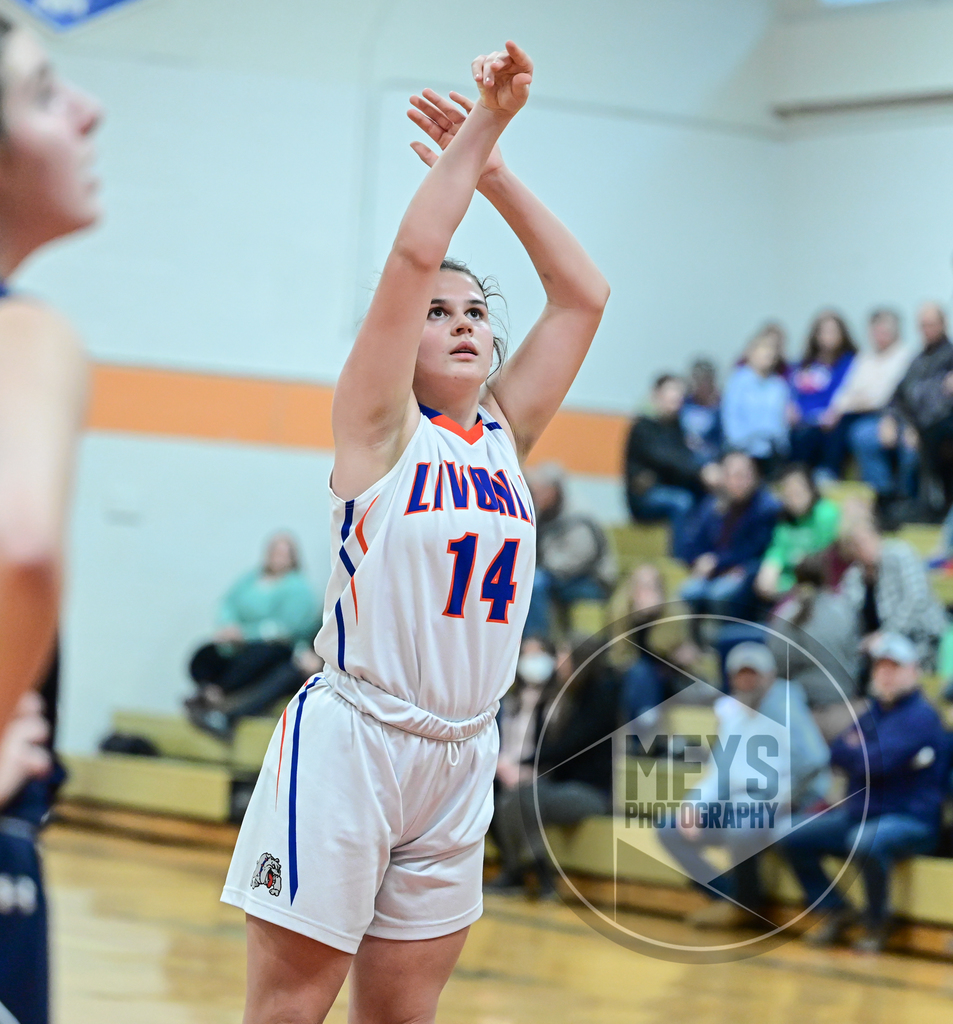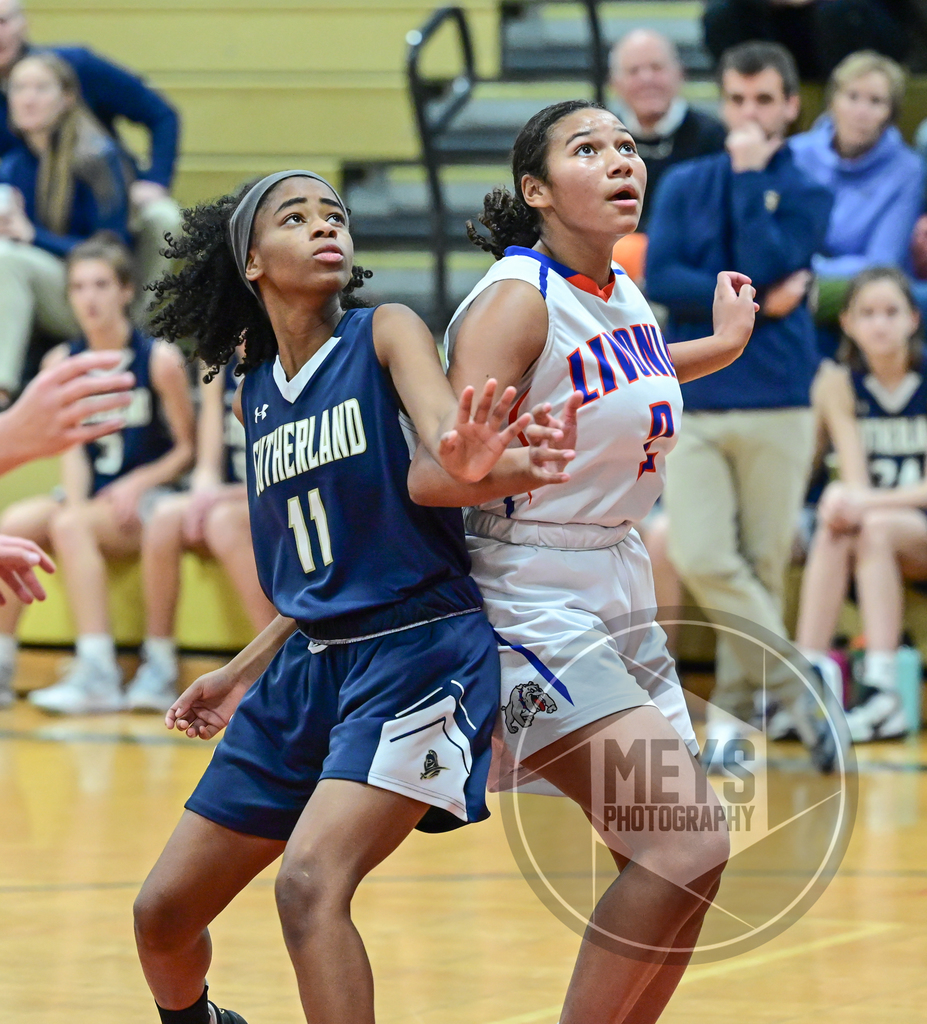 All after school & evening activities are canceled for today, December 15, 2022 due to icy weather and road conditions in our area. This includes this evening's scheduled sports practices and the 9-12 band concert.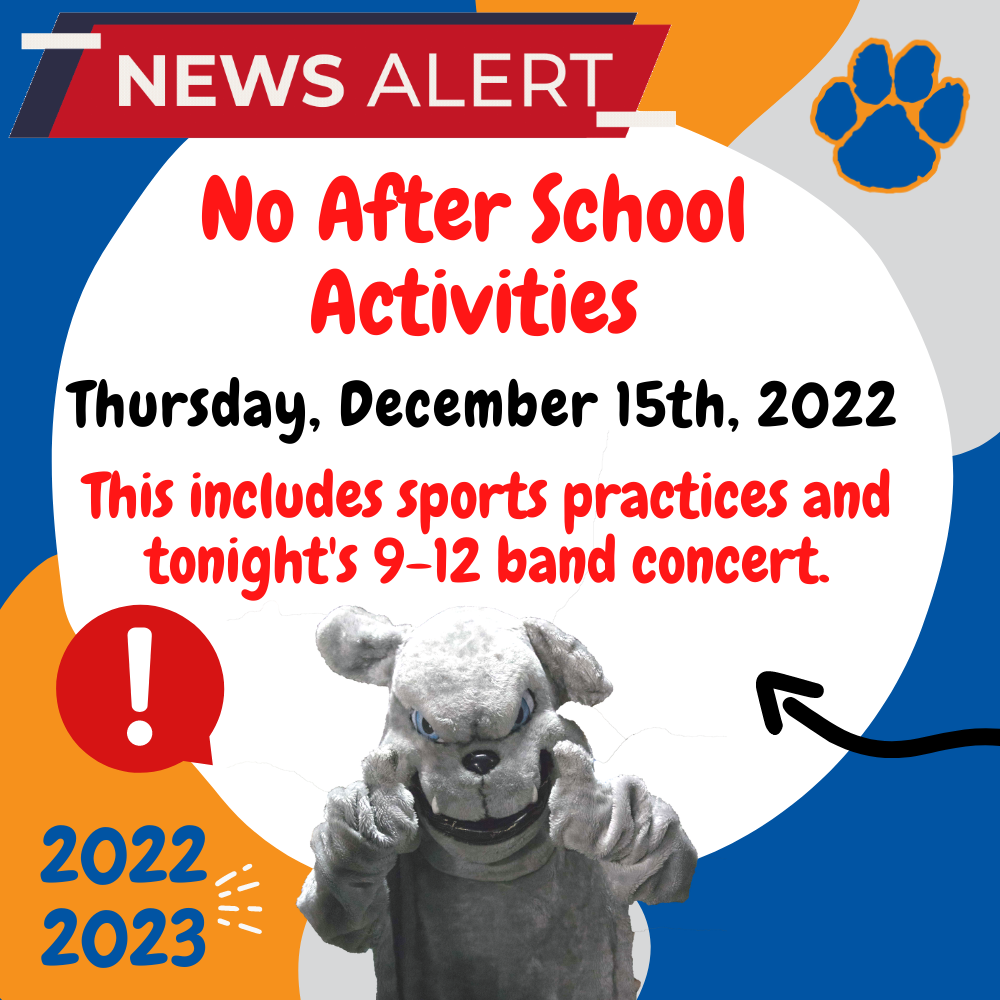 Wednesday Night Wrap-up 🏀 Gwen Strom led JV girls basketball with 15 points in a 62 to 23 victory over Clyde Savannah. The girls came out strong going up 40 to 6 at the half. Strom was supported by teammates Molly Hitchcock with 10 points, Natalie Gause with another 8, Molly Rowe and Maddie Whitford both with 7. Great team effort girls! 🏀 Varsity girls basketball victory 64 to 38 in Clyde Savannah last night. Senior Kylie Buckley had another impressive night scoring 39 points with 25 in the first half. The Kwak sisters helped seal with deal with Mary scoring 13 points / 11 rebounds and Libby added another 10 points of her own. Keep it up ladies, we are on a roll - GO LADY BULLDOGS!

Tuesday Night Wrap-up 🏀 The boys varsity basketball team played their best game in this early season, and beat Canandaigua by a score of 51-46. Chris Coyle had a game high 15 points and 6 rebounds. Connor Feehan scored 12 points, including 3-3 pointers and 3 assists. Nick Coyle added 9 points and 8 assists, while Jackson Cook rounded out the balanced scoring with 8 points and 8 boards. The Bulldogs host HFL on Friday night. 📷 Photos courtesy Meys Photography 🏒 Lakers Varsity Hockey picks up a 6-4 win on the road Tuesday night in Geneva against Wayne-Finger Lakes bringing their record to 2-3 on the season. First period was played fast and physical with the Lakers picking up 2 goals. The WFL team was very strong on offense and we ended the first period tied 2-2. Second period saw a lot of puck movement and at times Lakers passing was a bit inconsistent. WFL picked up 2 goals in the second and the Lakers answered back with one goal. The score going into the third was WFL 4 - Lakers 3. The third period saw the Lakers create all kinds of great offensive chances that WFL could not defend against. Lakers scored to tie it up early in the third on the power play. The game winner was scored halfway through the third period, we then secured the win with an empty net goal with 2 min left on the clock. Key players on defense tonight were Dom Agosto and Jared Bishop who were able to move the puck consistently out of the zone. Goalies Nate McDonald and Nick Lipome combined in net for the win. Points on the night were awarded to: Joey Cinquino 2G, 2A Jack Ruter 2G, 1A Christian Rumfola 1G, 1A Dylan Anderson 1G (first varsity goal!) Jack Fitzsimmons 1A Travin Ellison 1A Lakers play a tournament at Lakeshore Arena this weekend. On Friday Lakers will play at 6pm where they face off against a tough Churchville Chili team and they will play again on Saturday vs Hilton with a 4:30 puck drop. 🏊‍♂️ The boys swimming and diving team fell to a talented HFL team, 106-77. The Bullstangs were able to rack up an amazing 57 best times and scores throughout the meet. There are 13 total qualified for Sectionals. Next meet is Friday, 12/16 against Letchworth-Perry.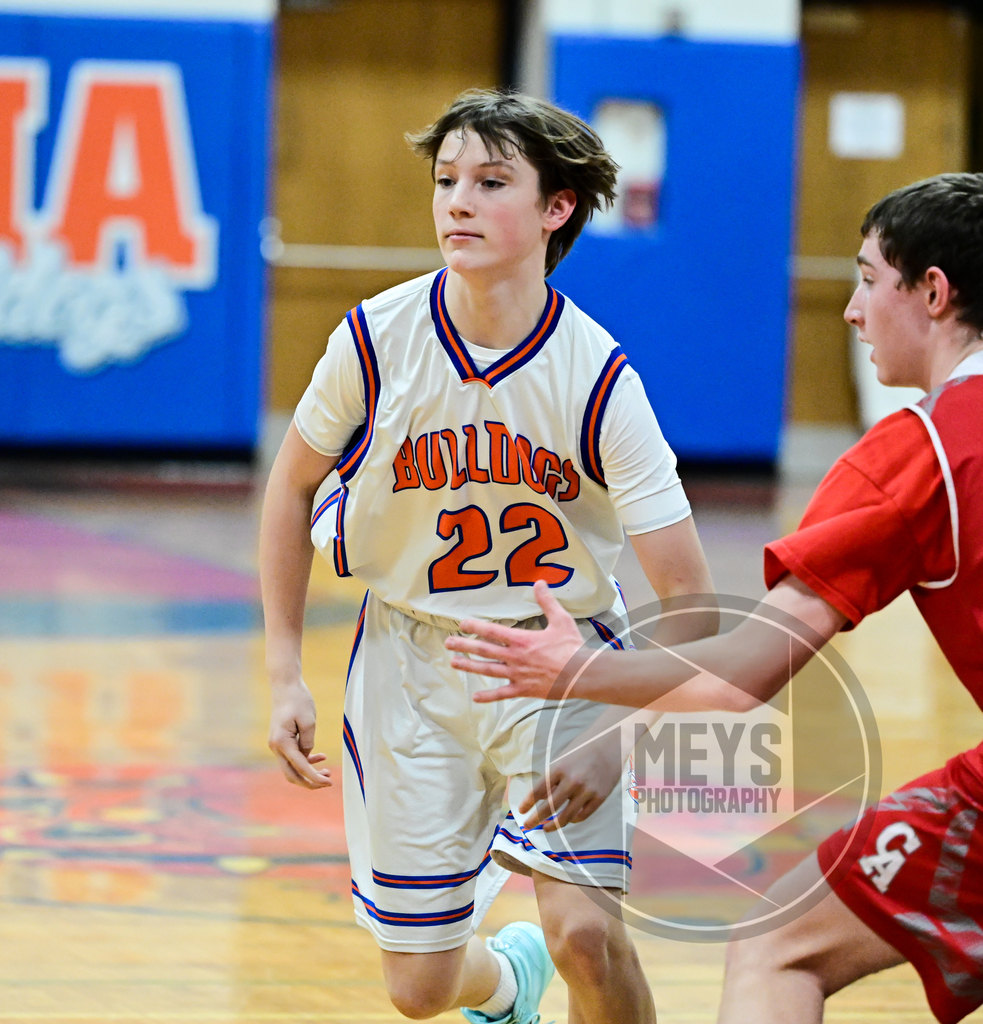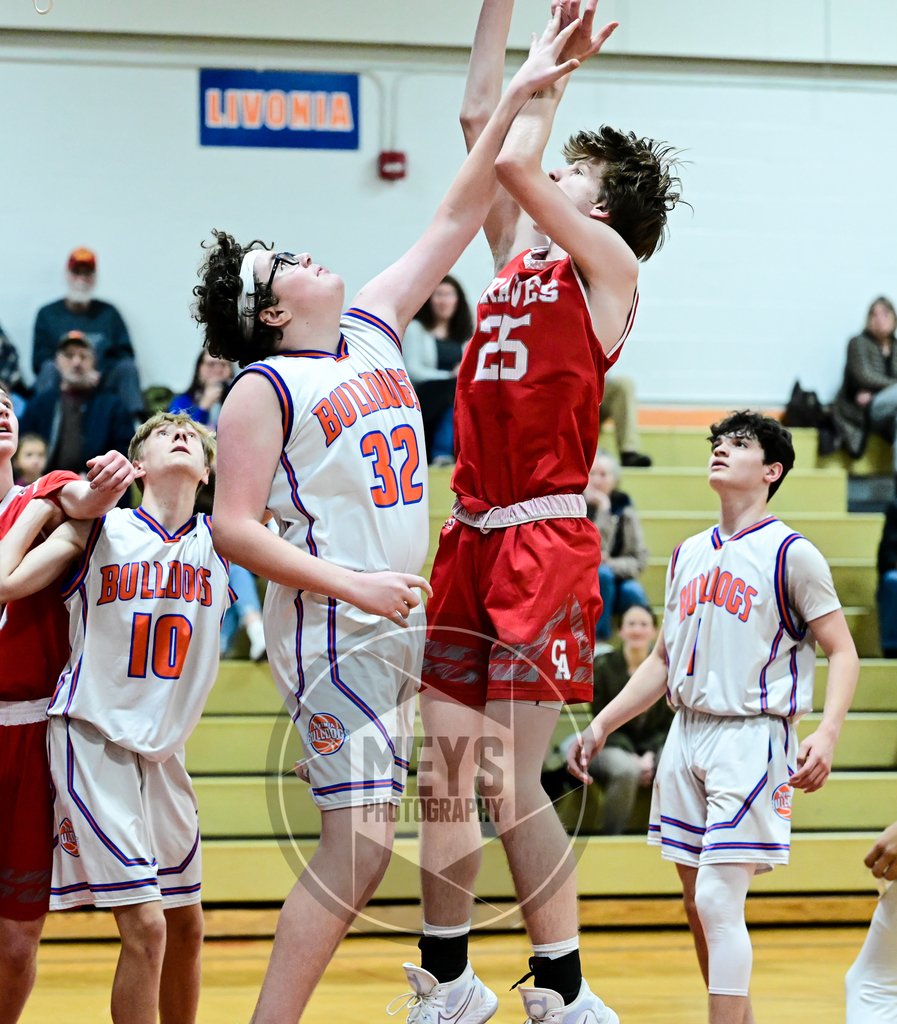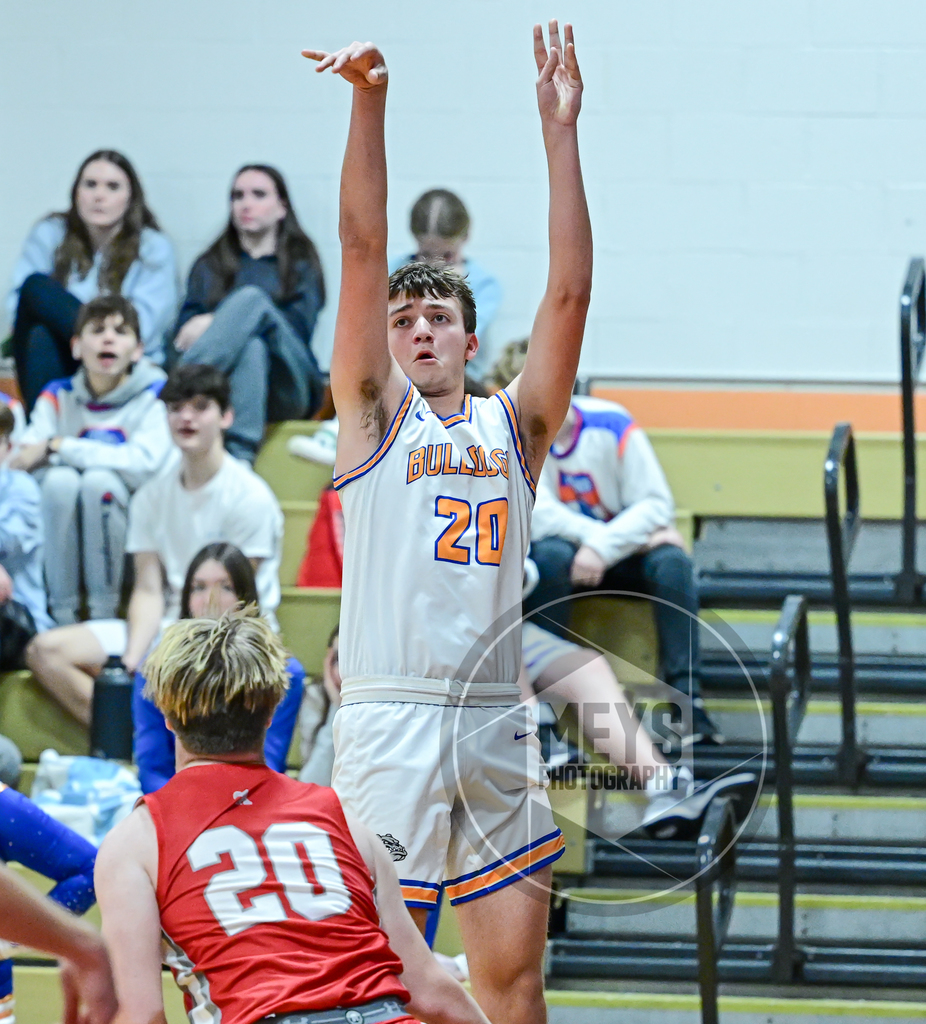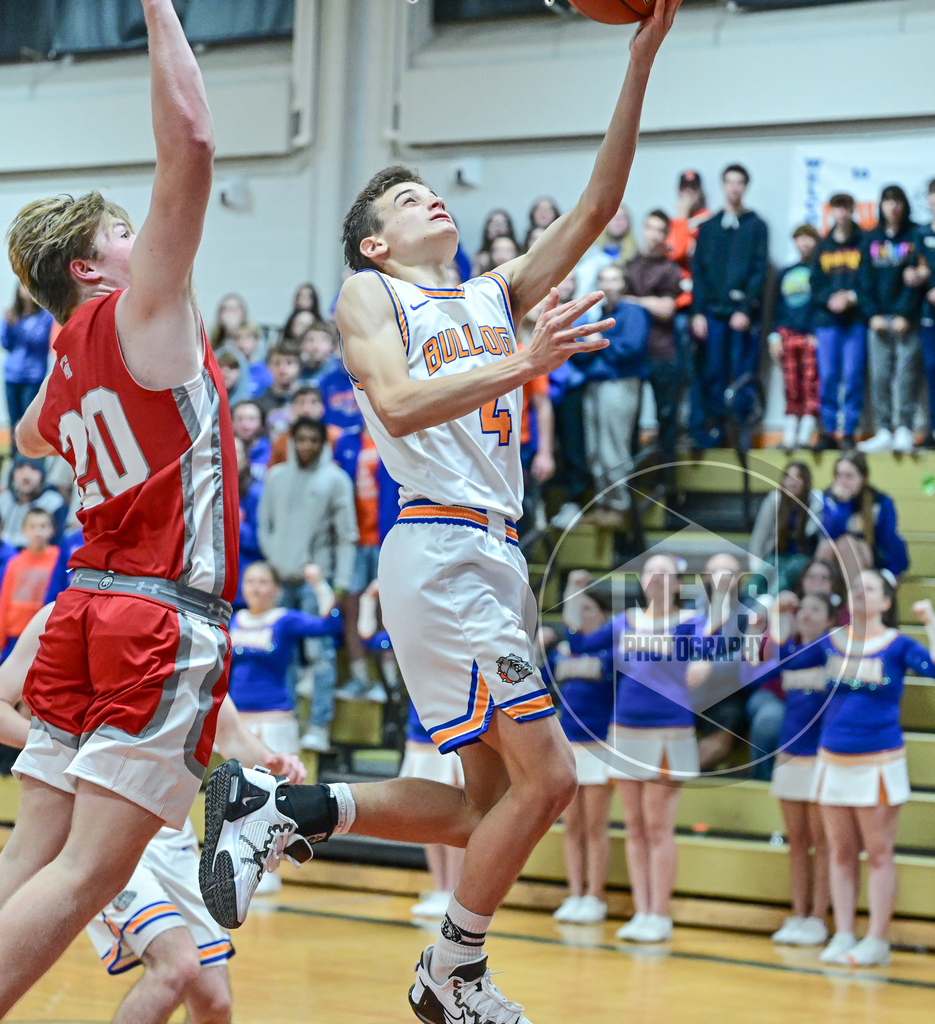 Boys Pk-2nd Grade Bouncing Bulldog information is now available! Registration and the program start date is Saturday, January 7th. Come dressed and ready to practice. If you have questions please contact Coach Young at
myoung4@livoniacsd.org
.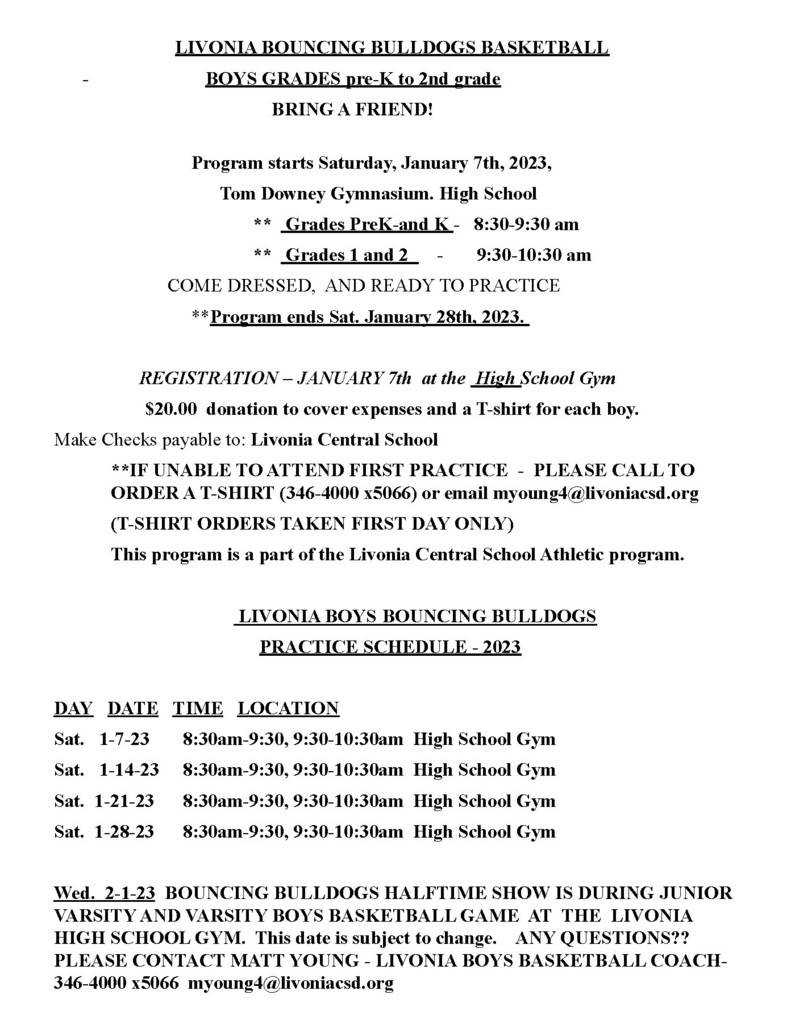 🏀 The Bouncin' Bullpups take the court on Saturday during half-time of the JV (11 AM start) and Varsity (12:30 PM start) Girls Games. We hope you join us for this fun event!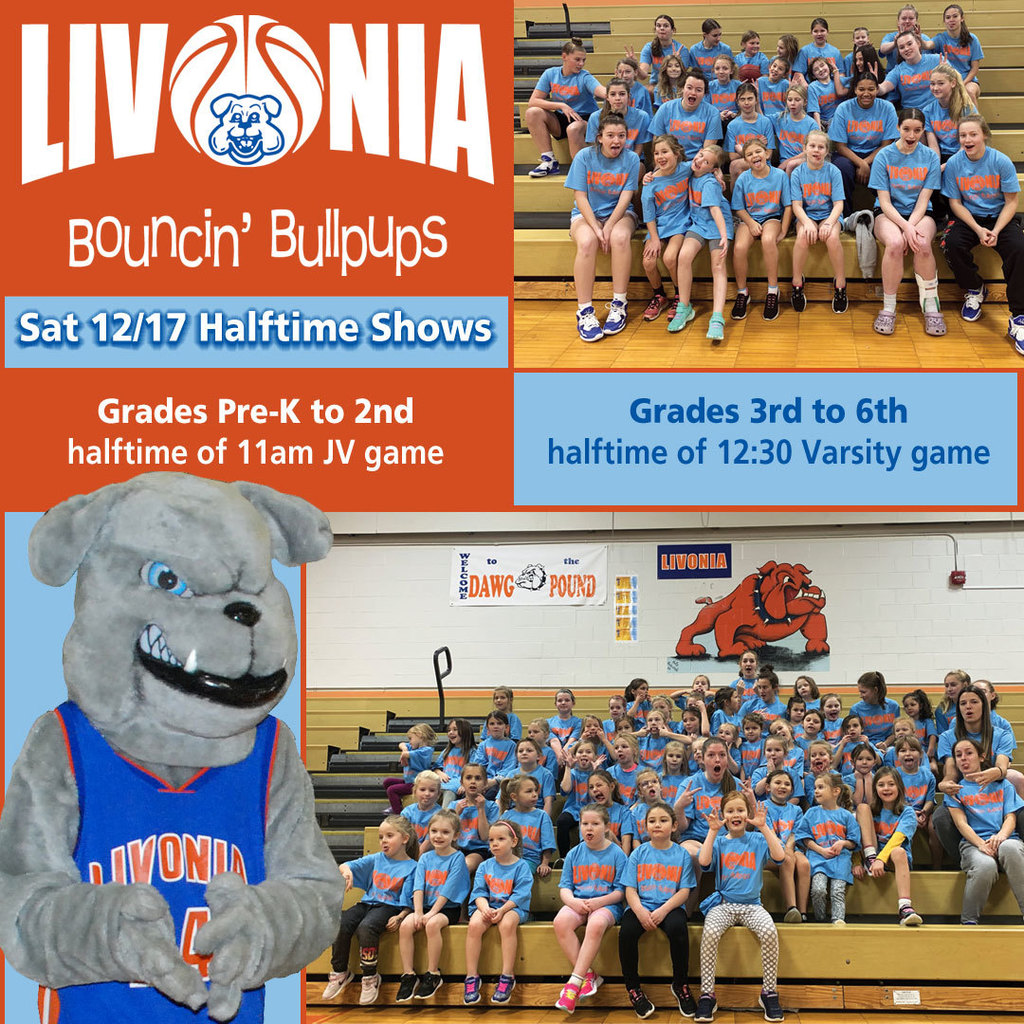 Weekend Wrap-up 🏀 Boys varsity basketball team lost to Avon 63-47 on Friday night. The team clawed back after being down 24-3 at the end of the 1st quarter to outscore Avon 44-39 the next three quarters. Chris Coyle led the Bulldogs with 17 points and 4 rebounds. Connor Feehan added 8 points 3 assists and 3 steals, and Jackson Cook added 8 points. 🏀JV Girls Basketball victory in Avon led by Alexa Olsen with 12 points Friday night. She was supported by 4 teammates that all added 6 points of their own: Clickner, Gause, Hitchcock and Strom. Great team effort girls! 🏀 Girls Varsity Basketball victory 67-25 on Friday over Avon led by 4 girls in double figures! Kylie Buckley with 18 points, Libby with 17, Emma King banked 13 and Mary Kwak another 11. Real teamwork girls - GO LADY BULLDOGS!!! 🏊‍♂️ The Boys Swimming and Diving team finished 3rd behind Fairport and Canandaigua at the Canandaigua quad meet. The team racked up an impressive 60 best times throughout the meet. There are 11 total qualifiers for Class B Sectionals. Their next meet is home against HFL on Tuesday, 12/13. 🤼 TJ Gause placed 2nd this weekend in the Batavia Wrestling Tournament. The Varsity Girl wrestlers and JV Boy wrestlers went to Penfield for tournaments. The wrestler of the day was Ady West. She won her division with 5 pins, with only 5:02 minutes of mat time. She was selected as most outstanding wrestler. Destiny Latimer also had a strong showing finishing 2nd with 3 pins on the day.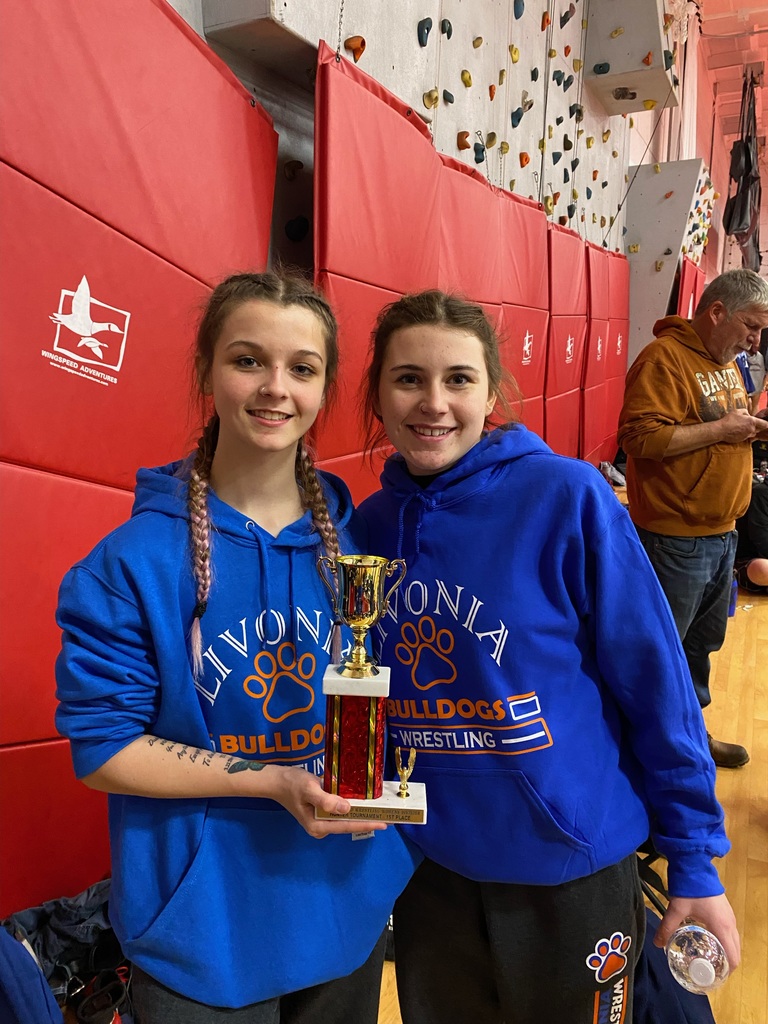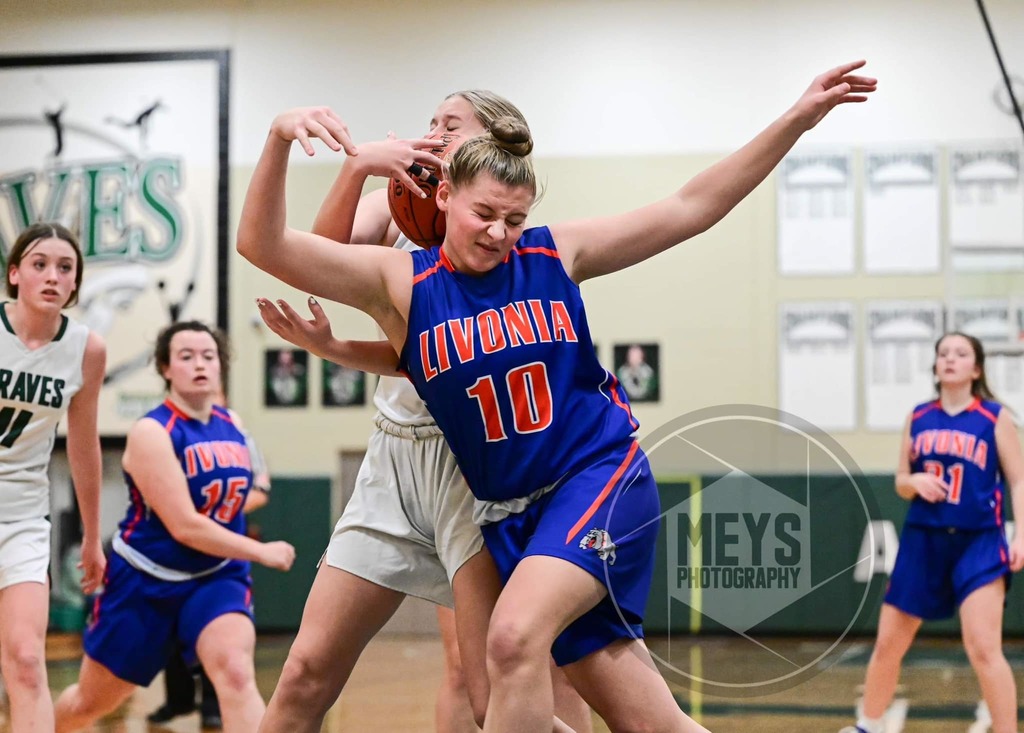 Livonia Cheerleaders began their winter season by cheering on the boys varsity basketball team this Friday night. For the first half of the season, the cheer team will be on the sidelines of the home varsity boys basketball games to show school spirit and bulldog pride before transitioning into their competition season for January and February. Go Bulldogs!